Create a focal point in your backyard or front yard with a fountain, urn, or bowl in Pensacola, Gulf Breeze, Navarre, Fort Walton Beach, and more of The Florida Panhandle.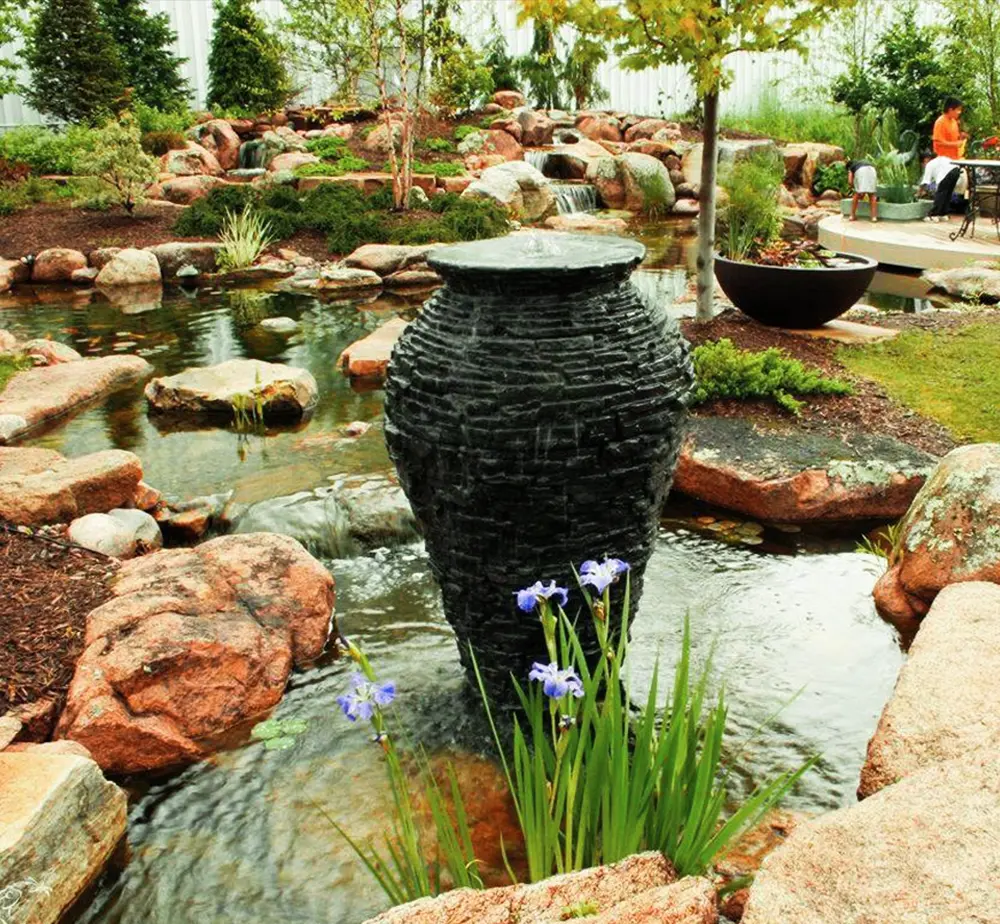 Scroll down to discover fountainsscape options, process, and pricing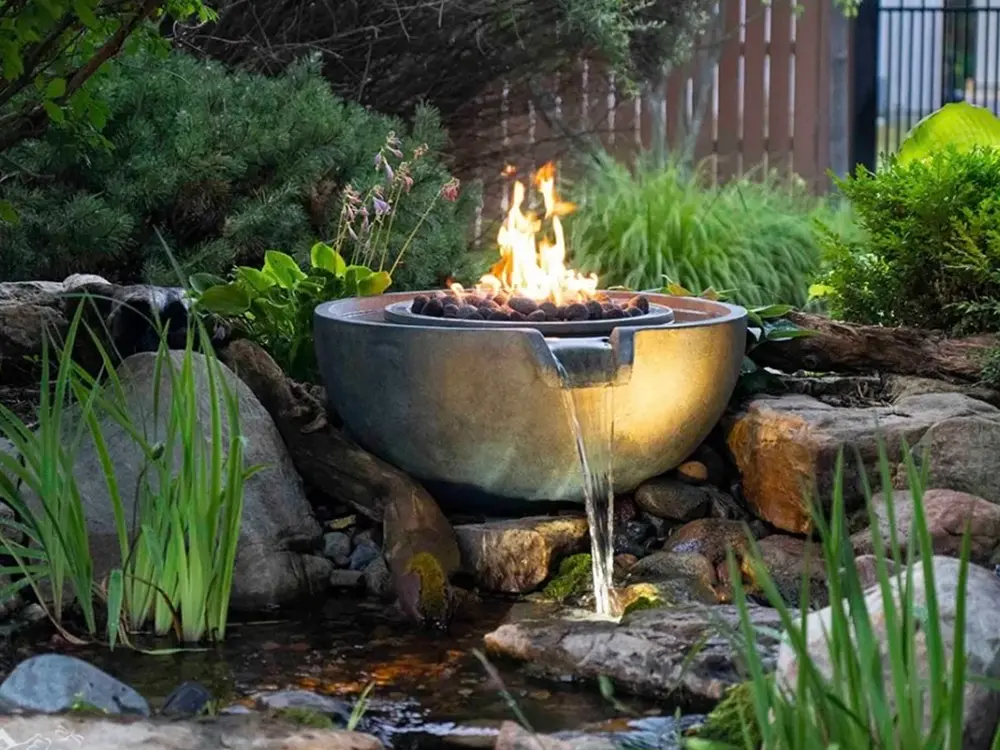 Reconnect With Nature In Any Spot
Do you want to bring more excitement to your backyard, but you're not sure where to start? Maybe you have a shady area that makes it difficult for grass to grow, or you're looking for ways to bring birds and butterflies to that space.
Adding a fountain or a patio bowl will bring a tranquil water feature into your backyard and help you make unused corners a treat for the senses.
Whether the area is in the shade or the sun, and regardless of soil conditions, a fountain or patio bowl can enhance your landscape and even complement an existing pond in your yard.
Make the most of your space with these fountain types:
This Is How Fountains Can Enhance Your Backyard
Stay In The Know With These Fountain Construction FAQ
A landscape fountain typically consists of a decorative fountain positioned atop an underground reservoir that stores the water. A recirculating pump in the reservoir pumps the water up through the fountain, where it bubbles over the top and cascades back into the reservoir.
If you already have a pond and are considering adding a fountain, know that it's always a good idea. A fountain can help to keep your pond clear by circulating the water, which can help to prevent the growth of algae and other unwanted organic matter.
The movement of water in a fountain also helps to oxygenate the water, which is beneficial for aquatic plants and animals. However, a fountain alone may not be sufficient to keep a pond clear – additional measures such as proper filtration and maintenance are also necessary.
The cost of a fountain in Pensacola, Florida, can vary greatly depending on size, design, materials, and extra features like lighting and plants.
On average, a small-sized urn or basin fountain will cost you around $4k, while a larger fountain with two urns or 1-2 rock walls can cost $6,500. High-end fountain construction can cost upwards of $15,000, with more urns and additional features.
When you're ready to start, give us a call, and we'll be able to provide an accurate estimate.
When choosing a fountain for your garden or patio, think of the following factors: available space, desired style, material, budget, maintenance requirements, power source, and climate. Opt for a fountain that fits your available space, complements your outdoor decor, and fits your budget.
When it comes to function, do you want a simple, tranquil water feature, or do you want a fountain that creates a focal point in your garden? Some fountains are easier to maintain than others, so consider your own abilities and resources when choosing a fountain. We'll be happy to help you make an informed choice!
Installing a fountain yourself can be a DIY project if you have basic plumbing and electrical skills and if the fountain is relatively simple and small in design.
However, if you are not familiar with plumbing and electrical systems, or if the fountain is complex or requires specialized equipment, it is best to hire a professional to ensure correct and safe installation.
The options can seem endless when deciding where to build a water fountain. A patio would make an excellent spot for a water fountain because the sound of running water will add a calming and peaceful atmosphere to your outdoor space.
If you have a large front walkway or driveway, installing a water fountain in this area will draw the eye and make a great focal point for visitors. For those with limited outdoor space, a wall-mounted fountain is also an option that won't take up too much room.
A Pricing Guideline For Your Fountain
The fountain's price depends on your selections. We've got loads of options like urns, stones, and boulders. You can pick between concrete, fiberglass resin, or ceramic, in all sorts of shapes and sizes. It's all about building the fountainscape of your dreams!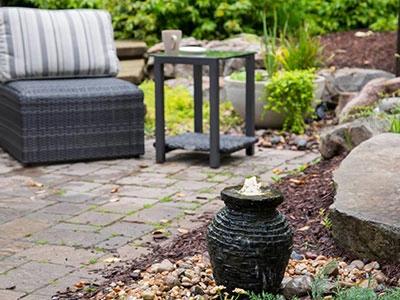 Includes a small-sized urn or basin.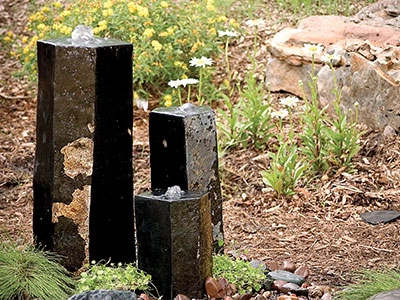 Includes 2 urns or 1-2 rock walls.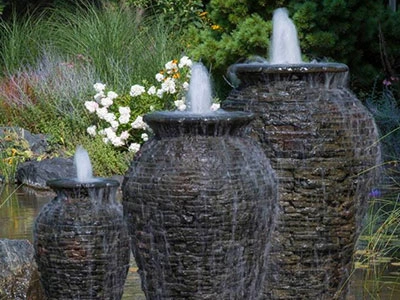 Includes 3-4 urns and more.
* Please note that prices are rough estimates and may change based on location, space, design, and materials. You'll get an exact quote after our in-house consultation.
Your Worry-Free Backyard Transformation
Our goal is to offer you an unmatched customer experience while we build your fountainscape. We've designed a streamlined process that keeps you updated at all times and guarantees a fountain you'll love.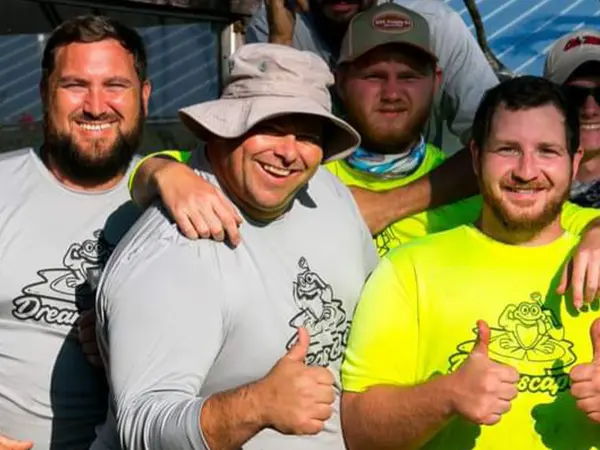 We help you define your vision for your backyard, front yard, or patio.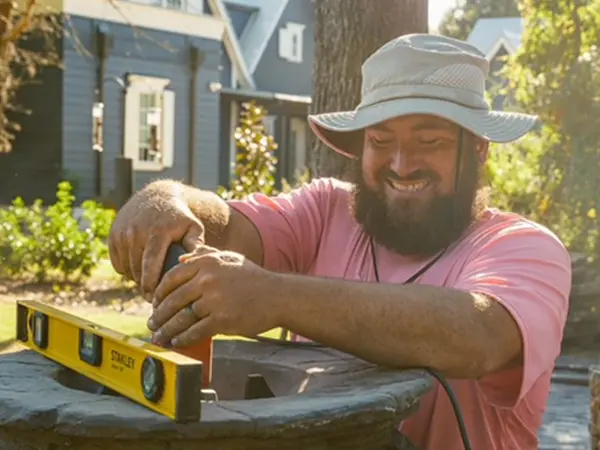 We carefully install your fountainscape while you sit back and relax.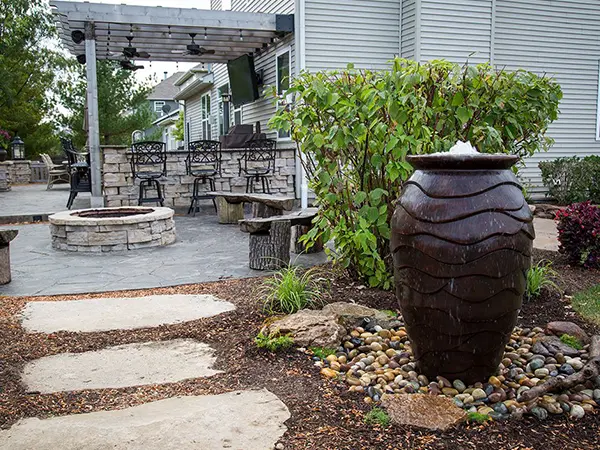 Relax and enjoy the sounds of your custom fountain.
Experience True Excellence For Your Water Feature
Bubba and his crew were easy to work with. They built us a pond featuring a waterfall and urns.
Everything exceeded our expectations. The pond turned out amazing!!!
These guys went out of their way to get our waterfall feature in this weekend.
That being said , they provided excellent service and high quality work.
I highly recommend [Panhandle Ponds] Dreamscapes Landscape.
Their team did a great job, exactly what we wanted and were very helpful to getting my fountain reconnected properly.
They also went above and beyond to help catch and save all my frogs from our fountain pond. They are safely back in their nice clean pond tonight. Thank you!
Ready To Add Some Visual Appeal To Your Backyard?
Owner Bubba's message for you:
Working With Panhandle Ponds Guarantees You'll Get
Enjoy the best fountain kit products from Aquascape INC, the leading company in water features. Panhandle Ponds also attends the largest training events annually to ensure outstanding service and installation.
Our focus is on providing a VIP experience while installing your fountain feature. We'll exceed expectations and ensure that you feel valued and appreciated through every step of the process.
Our lifetime workmanship warranty guarantees the quality of our work and provides you with peace of mind. Whether it's a small fountain or a large koi pond, we guarantee worry-free enjoyment for the lifetime of your project.
Add The Majestic Beauty Of Fountains To Your Garden
Let us know what inspires you, and together we'll turn your idea into reality