The beauty of water features with less maintenance: pondless waterfalls in Pensacola, Gulf Breeze, Navarre, Fort Walton Beach, and more of The Florida Panhandle.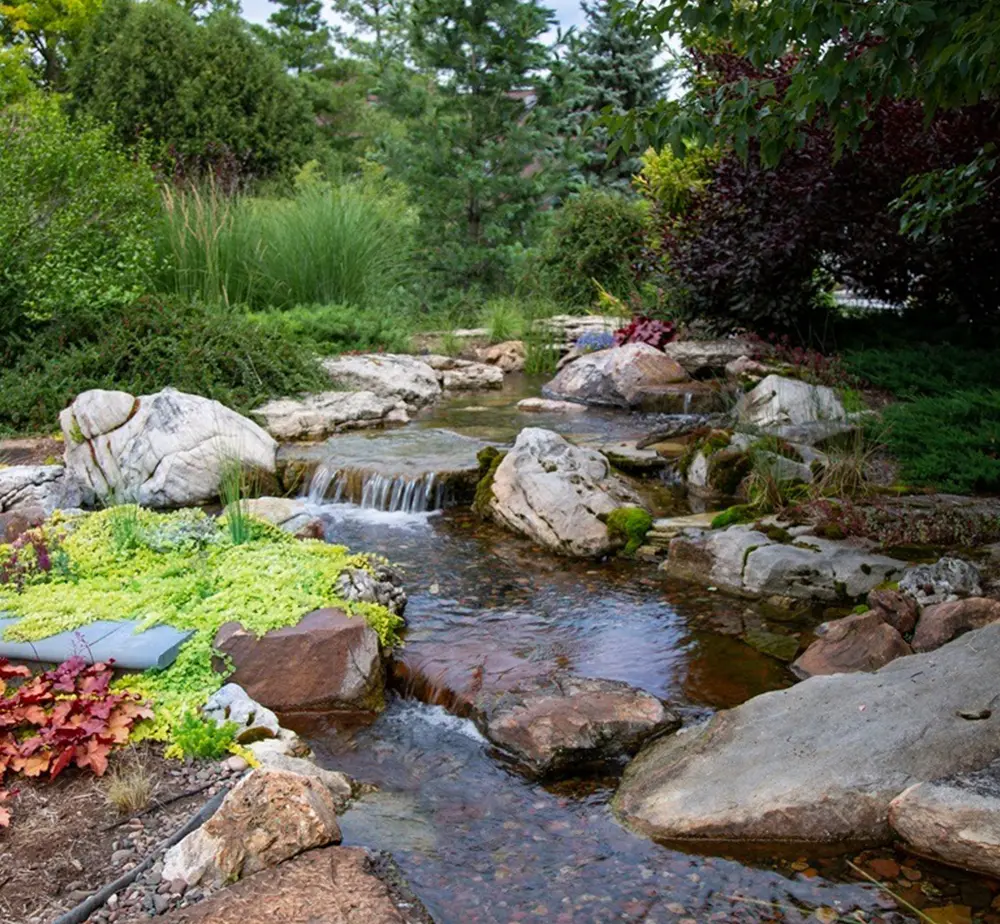 Scroll down to discover pondless waterfall options, process, and pricing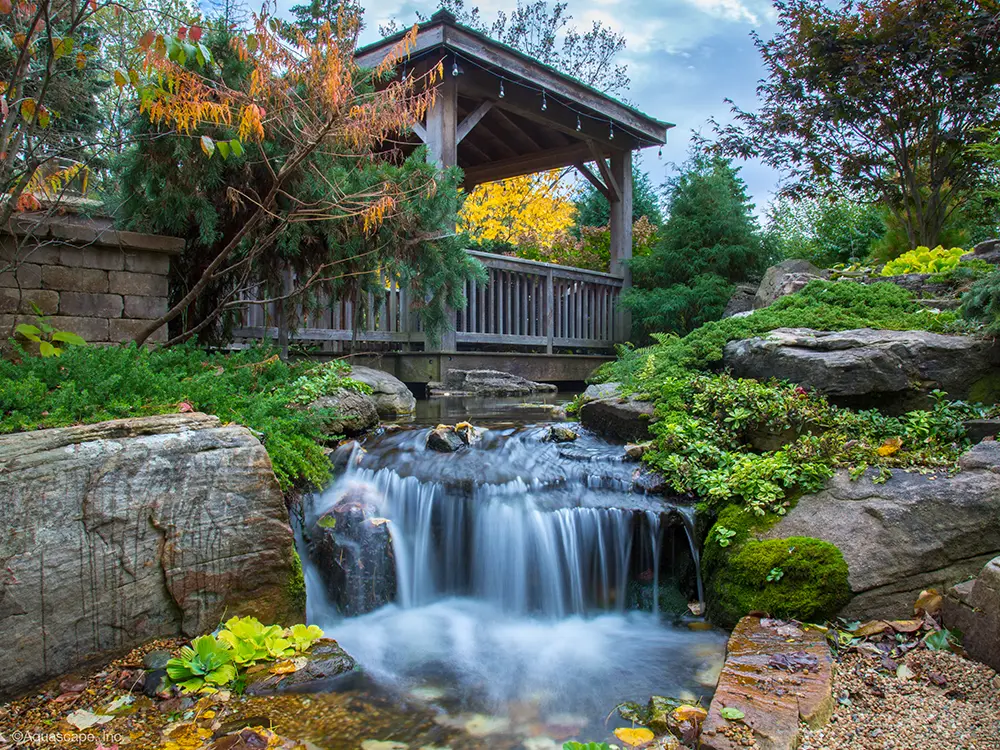 The Disappearing Pondless Waterfall - A Beauty Fit For All Spaces
If you're interested in installing a water feature in your backyard but the maintenance and safety of a pond keep you on the fence, we have the answer for you: pondless waterfalls.
Also known as a disappearing waterfall, a pondless waterfall is basically that — a waterfall and stream, without the pond.

You don't have to have a big backyard to enjoy the sights and sounds of water. Pondless waterfalls can be designed for any space, and you can have as much water as you want running through it. Wherever you choose to place it, your pondless water feature is an addition that adds style to your home and eases anyone's senses.
Here are some popular pond features you can add to the experience:
This Is How A Pondless Waterfall Can Enhance Your Yard
Stay In The Know With These Pondless Waterfall FAQ
Building a pondless waterfall often involves heavy machinery. The first step is choosing its location and digging out an area for it. Next, we line the hole with landscape fabric and fill it with gravel so that the water can circulate freely in the reservoir below.
Then we install the pump, place stones and boulders to complete the look, and connect the pump to your main water line. Some clients also choose to have aquatic plants with their pondless waterfalls. Once installation is complete, we perform a test to ensure all systems are running smoothly and let you enjoy your maintenance-free waterfall!
This depends on the size of the waterfall. Most pondless waterfalls need topping up with water once a week.
Pondless waterfalls require minimal maintenance, around five minutes every two weeks. The main action you need to do to a pondless waterfall is top if up with water.
Pondless waterfalls are recirculating systems that do not use filters.
A baseic pondless water feature usually includes a selection of 4-5 stones and a small spillway bowl and is typically priced at around $3,500. An average pondless water feature is more elaborate in design, with a 10-12 foot stream and beautiful boulders, light fixtures. It is typically priced between $8,000 and $10,000.
For those looking for something truly exquisite, a high-end pondless water feature is the ultimate choice and usually includes multiple spillway bowls, larger boulders, a larger waterfall flow, and an overall more complex design. Prices for a large disappearing waterfall range from between $25k and $30k.
No matter what kind of pondless water feature you are looking for, the team at Panhandle Ponds will work with you to design and install a feature that meets your budget, aesthetic needs, and functional requirements.
Yes, you can run a pondless system in the winter, although it is recommended to turn it off and winterize it if hard freezes are expected. In places with milder winters like Florida, this isn't necessary as often. It's important to check your specific waterfall pump manufacturer's recommendations for proper care during cold weather.
A Pricing Guideline For Your Pondless waterfall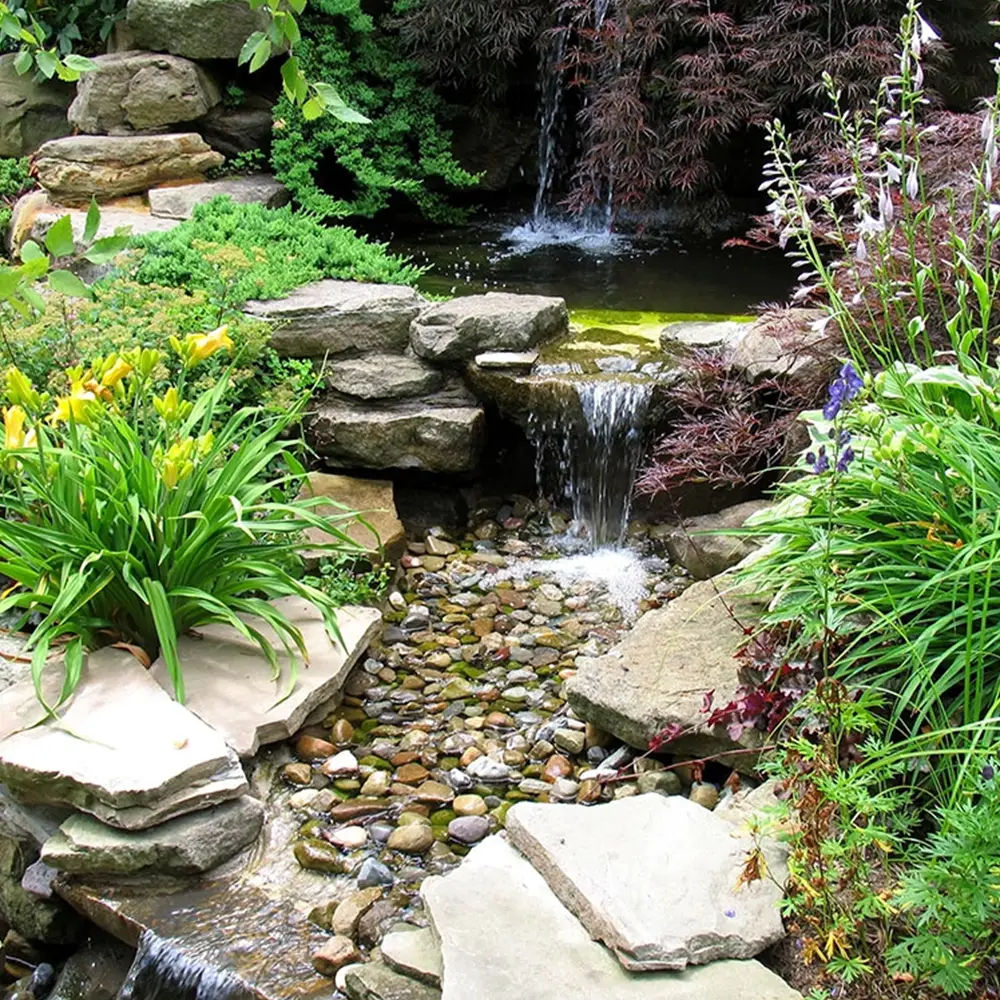 20′ stream with small pool of water
This 20 ft. pondless waterfall project included:
The project was quoted at $5,500 where the components were around $2,000 and the stone came in at $1,000.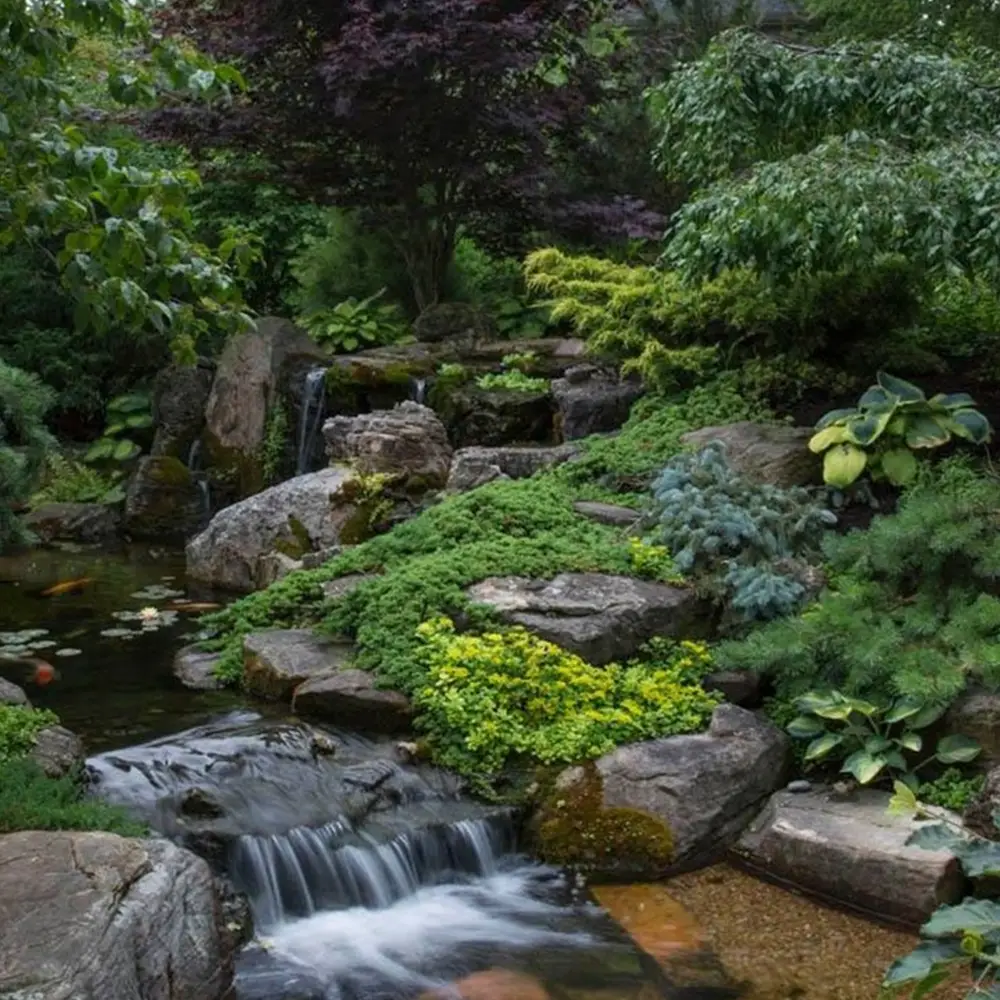 25′ stream with multiple waterfalls
This 25 ft. pondless waterfall project included:
The project was quoted at $21,000 where the stone and boulder choice were the most expensive components of the project coming in at $7,000.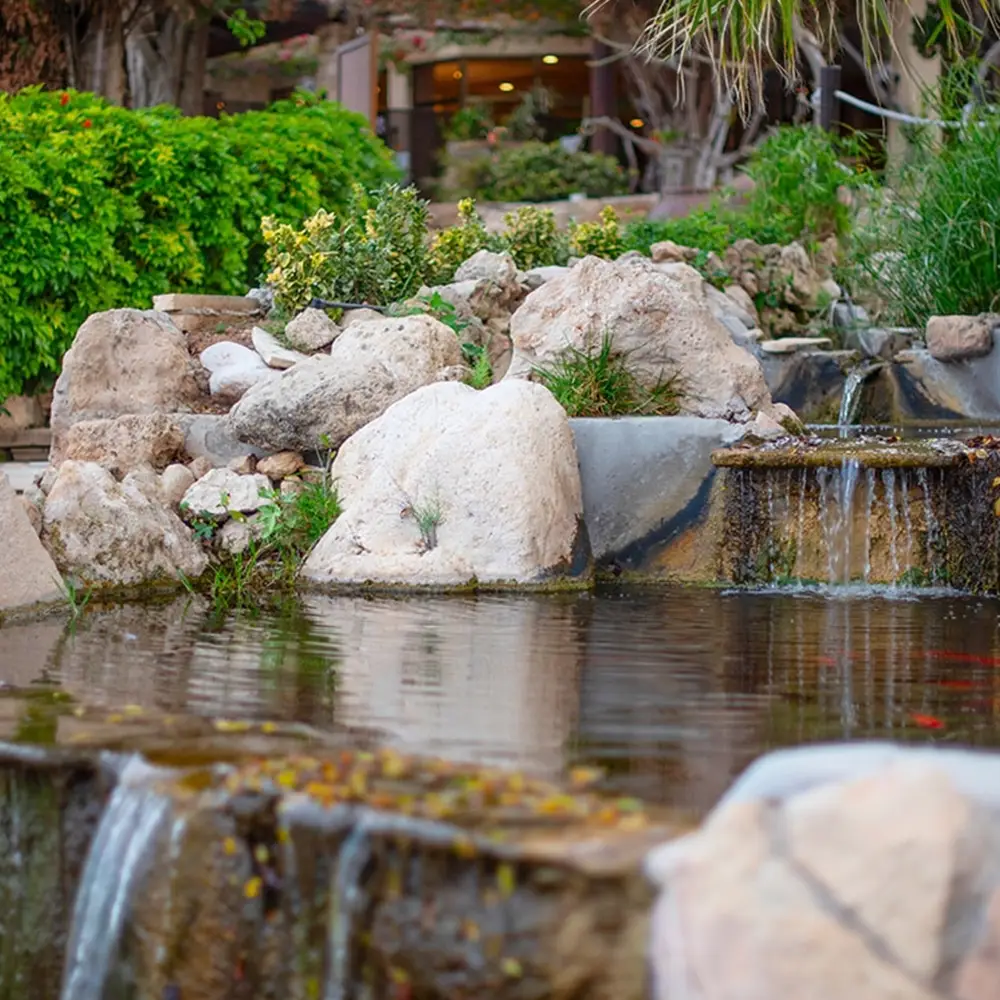 20′ stream with pool of water
This 20 ft. pondless waterfall build included:
The project was quoted at $25,000 where the stone, gravel, and select choice boulders were $12,000.
Pondless Waterfall Cost Calculator
Use the sliders in the calculator below to get a better idea of your new pond's cost. Don't forget to reach out for your final price.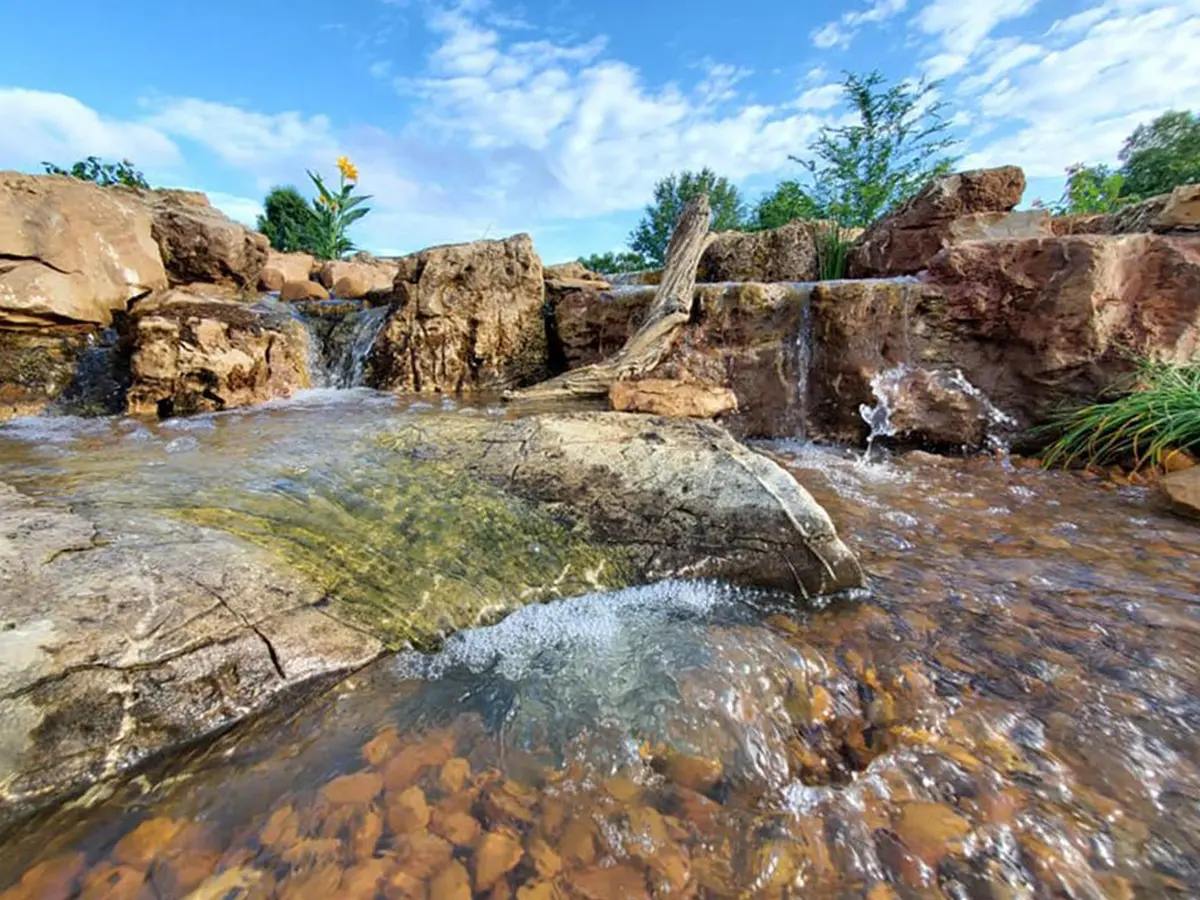 Drag the sliders to Get Your Estimate
Your Worry-Free Pondless Waterfall Feature
Our goal is to offer you an unmatched customer experience while we build your pondless water feature. We've designed a streamlined process that keeps you updated at all times and guarantees a waterfall you'll love.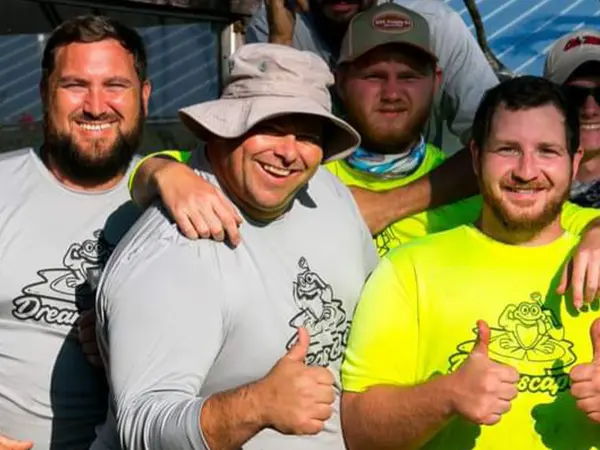 We help you define your vision for your yard.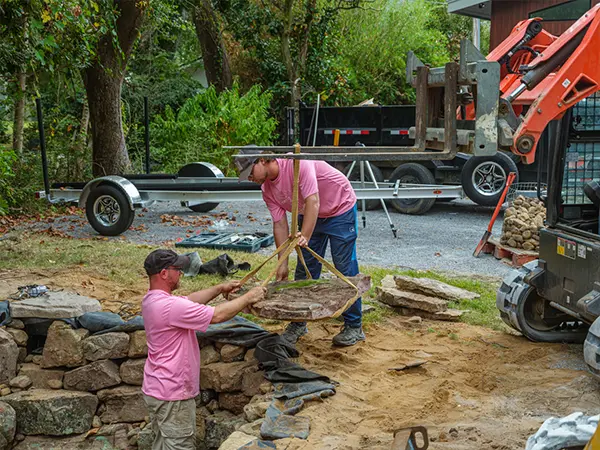 We bring your pondless waterfall vision to life.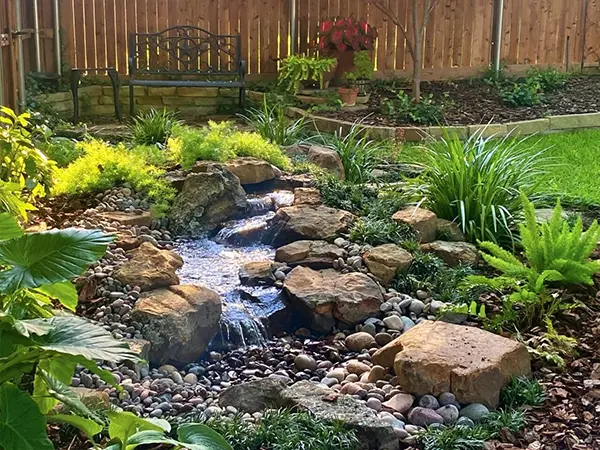 Enjoy the sights and sounds of water with close to zero maintenance!
Experience True Excellence For Your Pondless Waterfall
I had a waterfall and stream installed in my backyard last year to hide a corner that I couldn't get plants to grow in.
They took my vision and turned it into reality. I've had a couple of issues with one of the pumps and each time they have been professional and responsive, quickly fixing the problem.
I highly recommend this company to everyone trying to update/upgrade their yard. I truly love it and it makes this space a tranquil area to relax!!
It definitely beautified the area.
We recently purchased a house with a series of waterfalls. Dreamscapes [Panhandle Ponds] spend over 1.5 days in cleaning the waterfalls/ponds, which weren't properly maintained for several years. The system is working beautifully and looks dramatically better than when we purchased the house. Additionally, Dreamscapes quoted the job sight unseen.
I have to think they spent 2x the amount of time an effort they normally expect. However, when we received the invoice, it matched the quote. I was pleased and surprised. I wouldn't hesitate to refer them and plan to use them in the future.
I have a small aquascape pond with biofalls waterfall that was installed about 20 years ago. I do not know who did the original installation, but whenever I need a good clean out or any type of maintenance, Bubba and his team have always done an excellent job.
I am glad there is someone in our area that is knowledgeable about this specific type of water feature and how they are intended to work and be maintained.
Recommend without hesitation.
Ready For Your Low-Maintenance Water Feature?
Owner Bubba's message for you:
Working With Panhandle Ponds Guarantees You'll Get:
As Certified Aquascape Contractors, Panhandle Ponds team attends the biggest training events year by year to guarantee an impeccable service and installation.
We're all about creating a red carpet-experience for you while creating your waterfall escape. We go above and beyond to make sure you feel listened and appreciated, and that your needs are met at all times.
We are committed to resolving any issues that arise from factors within our control to ensure that your pond continues to provide a delightful experience year after year.
Enjoy Relaxing Sounds In Your Backyard Without The Maintenance Of A Pond
Let's bring the beauty of nature close to home with a pondless waterfall.​