Enjoy your fountainscape again with quick fountain repair in Pensacola, Gulf Breeze, Navarre, Fort Walton Beach, and more of The Florida Panhandle.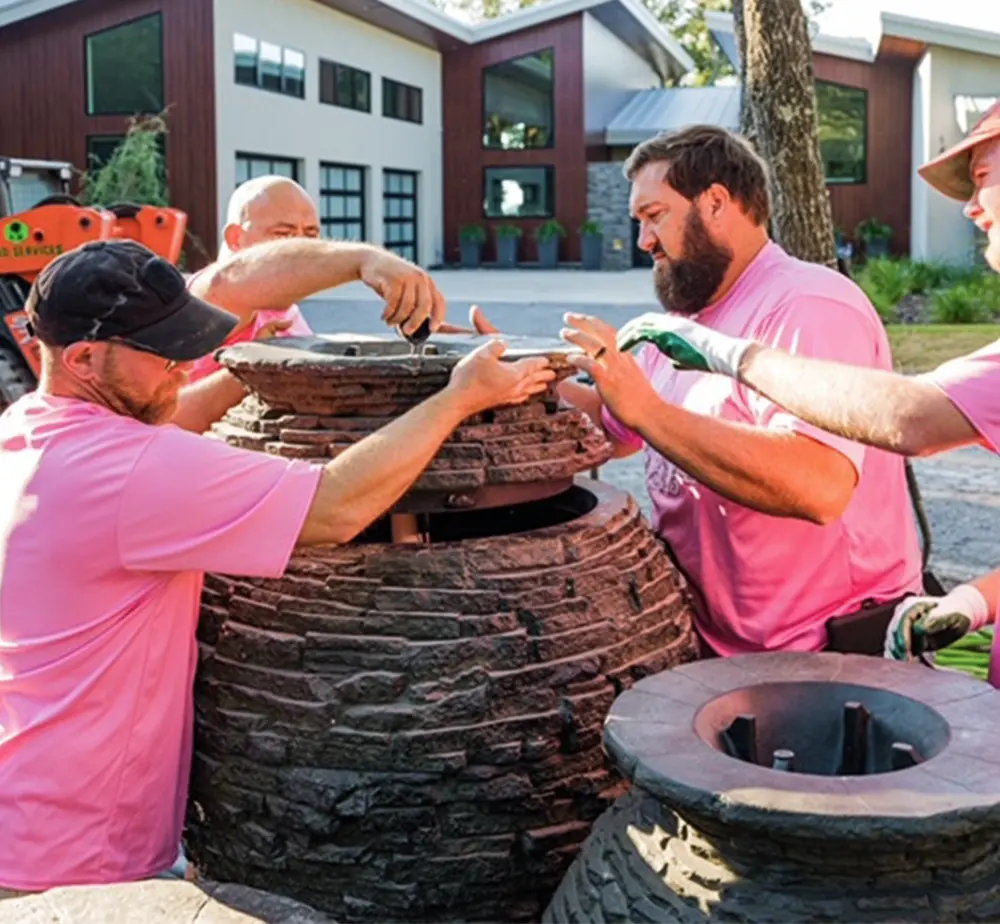 Scroll down to discover fountain repair options, process, and pricing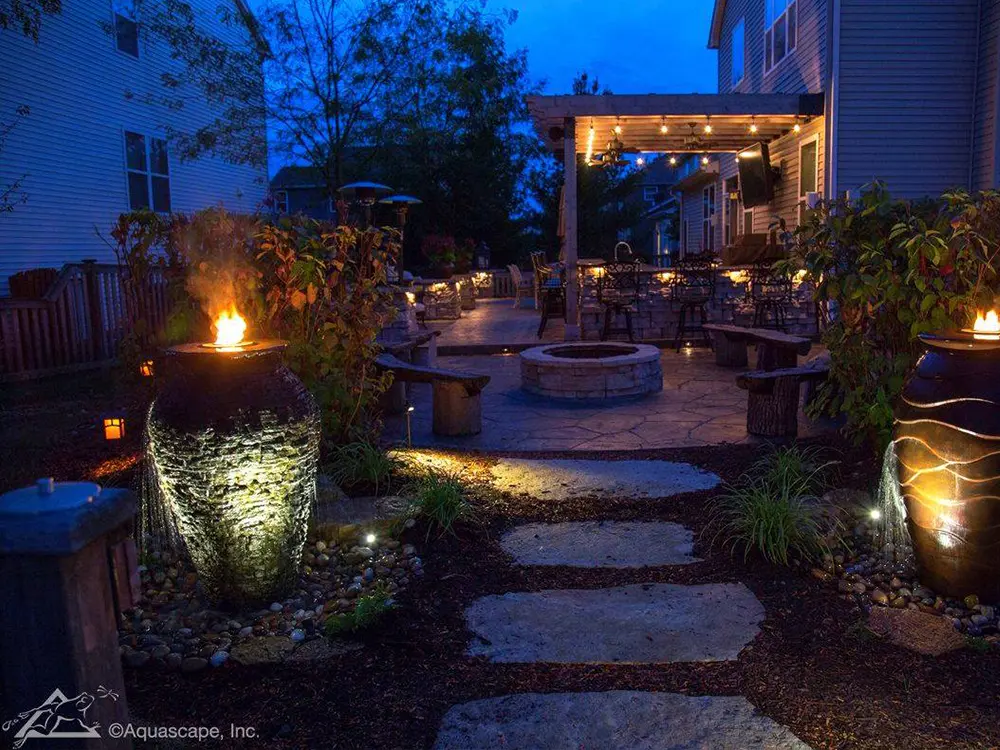 Bring Back The Charm Of Your Fountain With A Proper Repair
A fountain or urn in your front yard or backyard can create a stunning and peaceful ambiance, but only if it's in proper shape.
If your fountain is in need of attention, let us assist in bringing it back to life. We are here to help restore it to its former splendor, so you can once again bask in its peaceful sights and sounds.
Whether it's maintenance, electrical issues, or piping that needs attention, we are here to ensure your fountain is fully functioning once again.
Some of the most common fountain issues include:
This Is How A Fountainscape Enhances Your Backyard
Stay In The Know With These Fountain Repair FAQ
A landscape fountain typically consists of a decorative fountain, positioned atop an underground reservoir that stores the water and a recirculating pump located in the reservoir pumps the water up through the fountain, where it bubbles over the top and cascades back into the reservoir.
The repair method for a leaking water fountain depends on the specific issue. For small cracks or holes, using epoxy or a sealant can often solve the problem.
If the pump is not working, replacing the pump and piping may be necessary. If the leak is caused by large cracks, sealing the gaps might not be effective, so a replacement may be needed.
This depends on the severity and location of the crack, as well as other factors, such as the material the fountain is made of and the overall condition of the fountain. Sometimes, the crack can be sealed or filled with epoxy to prevent further damage.
However, if the crack is too severe or if the fountain is in poor condition, it may be beyond repair, and a replacement may be necessary.
As simple as they appear, fountains need to be properly cared for in order to maintain their beauty and functionality. Regular cleaning, proper water levels, and addressing any leaks or other issues promptly can go a long way in keeping your fountain in top shape.
Whether to repair or replace a fountain ultimately depends on several factors. If the fountain holds sentimental value, such as a family heirloom, restoring it may be the preferred option.
However, if the fountain is beyond repair or replacing it would be more cost-effective, then getting a new one may be the best choice. It's important to consider the cost and value of the fountain, as well as the level of difficulty and cost associated with the repair, when making this decision.
Fountains should be cleaned and maintained regularly, at least once a month. This includes cleaning the basin and pump, checking water levels, and addressing any leaks or clogs promptly.
A Pricing Guideline For Your Fountain Repair
From small fountains to big ponds, we've got you covered with our fountain repair service!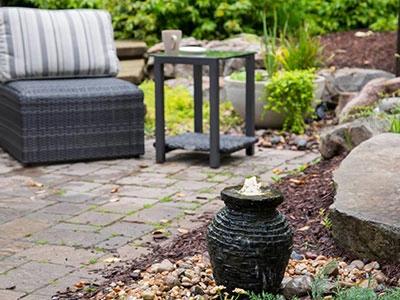 Includes draining, pressure washing, clean out. Resealing may be offered if needed.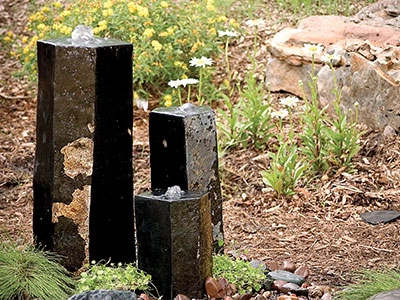 We take care of cracks, splashing, and more. We'll consult you over the phone as sometimes it's just a leaf that's stuck which  you can remove yourself.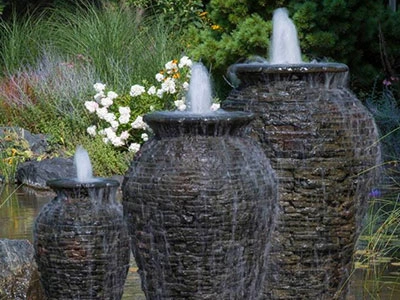 This could be just a pump cleanup that can solve the problem. Pump replacement, in case of a defective pump, starts at $300.
* Please note that prices are rough estimates and may change based on location, space, design, and materials. You'll get an exact quote after our in-house consultation.
A Hands-Off Fountain Repair Process
Our goal is to offer you an unmatched customer experience while we repair your fountain. We've designed a streamlined process that keeps you updated at all times and guarantees a pond you'll love.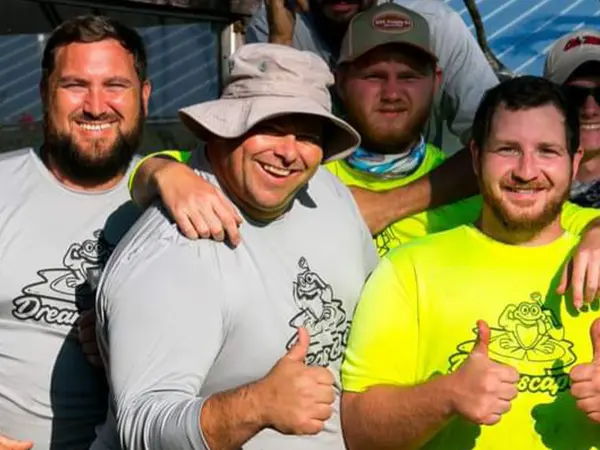 We inspect your fountain and determine the best course of action.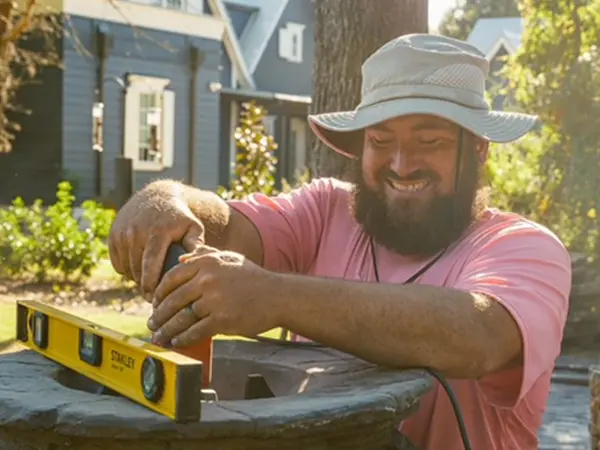 We repair your fountain with care and attention to detail.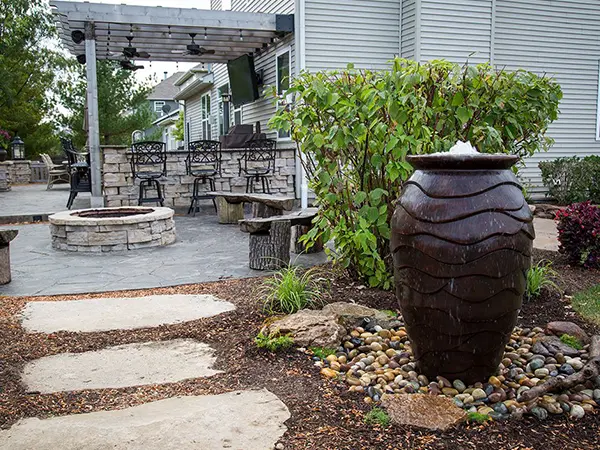 Relax near your beautiful, functional water fountain.
Experience True Excellence For Your Water Feature
Dreamscapes [Panhandle Ponds] did a great job cleaning our pond and making the waterfall so much better!
Three very polite, professional young men showed up right on time and quickly got the pond drained and cleaned.
I asked them to make an elevation change in the waterfall, which they did in no time. I am VERY happy with their service, and I will definitely use them again. Highly recommend!
Arrived the same day I called. They took their time and did a great job!
Very friendly and professional. I was very pleased with the work.
After contacting multiple companies Dreamscapes [Panhandle Ponds] was the only company to call and show up when they said they would.
Extremely knowledgeable on ponds, fish and water plants.
They turned my plain backyard into my own backyard paradise. Definitely recommend!
Ready To Bring Your Fountain Back To Life?
Owner Bubba's message for you:
Working With Panhandle Ponds Guarantees You'll Get
Our commitment to education ensures that we provide an exceptional level of service and installation for your water fountain. We attend the biggest training events across the country to stay up to date with tools and technology.
From small repairs to complete replacements, you'll always know what your fountain repair implies. We take the time to explain to you our findings, present servicing options, and make sure we answer all your questions.
If a simple repair can fix your fountain, we'll complete it promptly without any attempts to oversell. If a new fountain would serve you better, we'll provide you with straightforward and honest advice.
Continue To Enjoy Your Beautiful Fountain With An Expert Repair
We'll address any issues with your fountainscape in a professional way.