Bring nature closer to home with a custom pond construction in Pensacola, Gulf Breeze, Navarre, Fort Walton Beach, and more of The Florida Panhandle.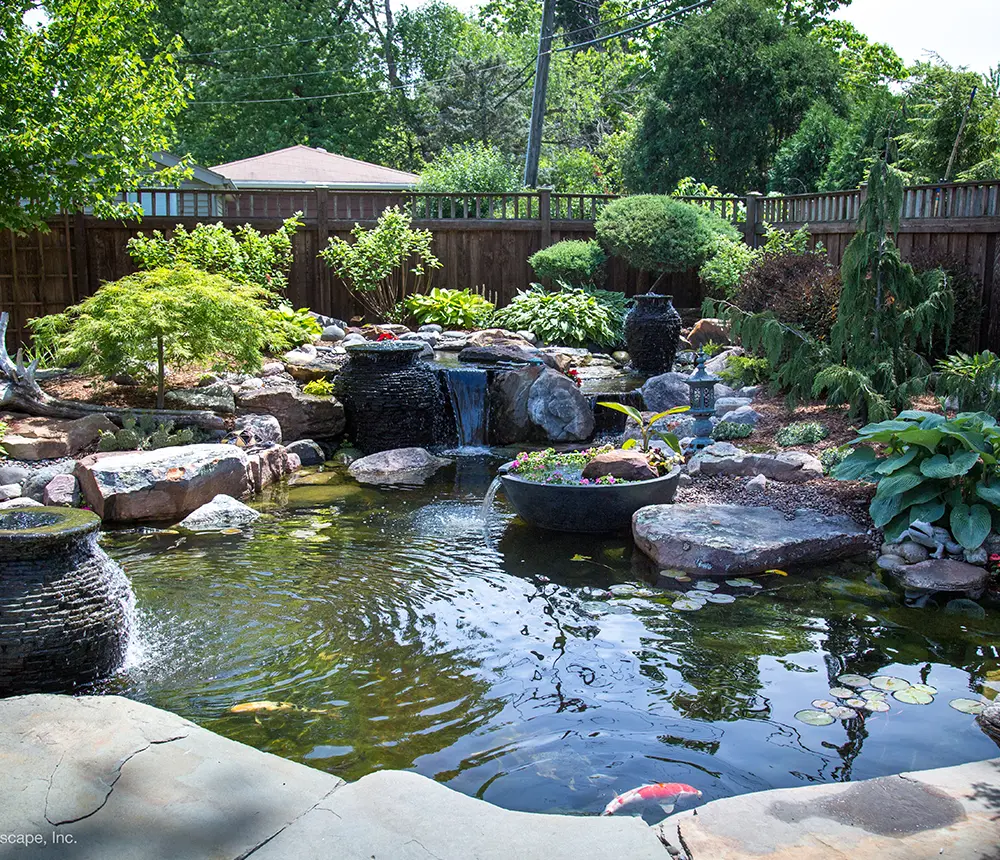 Scroll down to discover koi pond options, process, and pricing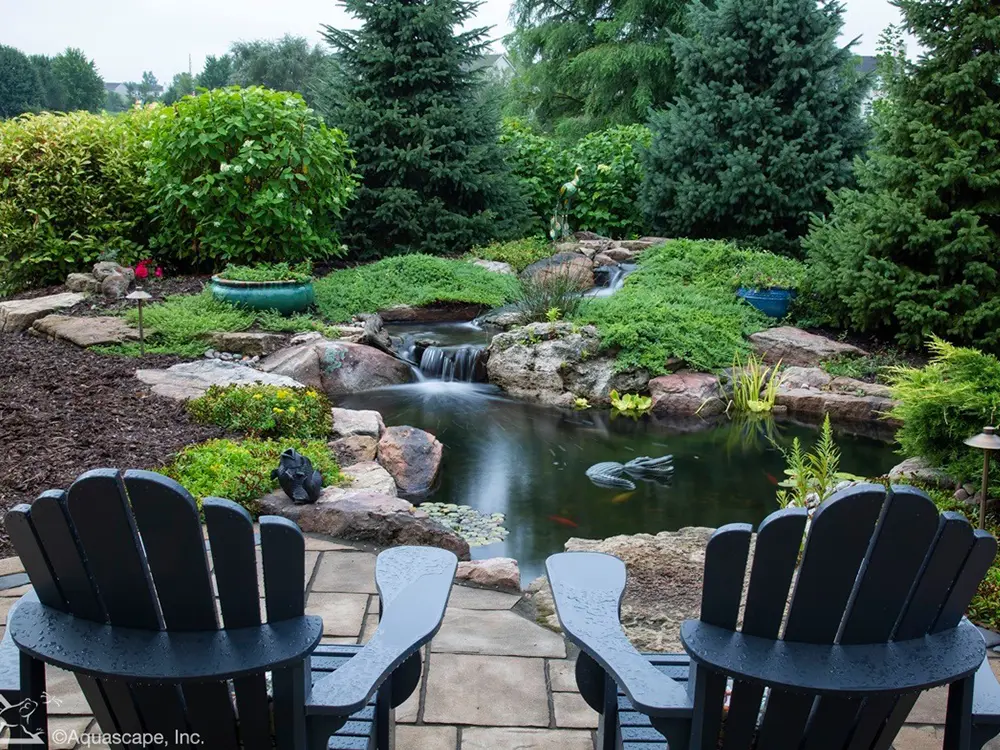 Give Your Backyard A New Purpose
There is something uniquely relaxing about gazing at fish swimming through a pond. Our ponds are designed to work in harmony with nature. We use a combination of different size rocks, boulders, and gravel to create a natural-looking pond that is filtered by mother nature.
With such a water feature in your backyard, you can invite guests over more often and enjoy time spent outside. Plan an afternoon cocktail party and amaze anyone with the calming sight of uniquely patterned koi swimming in your home garden.
Here are some popular pond features you can add to the experience:
This Is How Your Backyard Can Look
Stay In The Know With These Pond Building FAQ
Building a pond is a labor-intensive process. It often starts with large-scale digging that requires heavy machinery, ordering and bringing materials in, stacking stones, and having proper plant knowledge in order to make the best decisions. This is not to say that it can't be done, but building a pond is a physically demanding undertaking. If you want to ensure a well-constructed, long-lasting pond, it is best to consult a professional who can give you your dream pond in a matter of days, not weeks.
There is no one specific shape that is considered the "best" for a pond, as it ultimately depends on your preferences and the space available. When determining the shape of your pond, it's important to make sure that water is moving properly and there's no stagnation. Ultimately, the best shape for a pond is one that meets your aesthetic and functional needs and enhances the overall look of your landscape.
Using rocks and gravel for the bottom of your pond will give a natural look to the pond and allow for beneficial bacteria growth. Some fish enthusiasts will argue that koi fish can get hurt in the rocks while spawning.
If we're talking about a backyard pond, the average depth is 2 feet. A pond between 18 inches to 2 feet is deep enough for fish to thrive, but we've also built 3 feet deep ponds. Recreational ponds that also allow for swimming can go between 5 and 10 feet.
The ideal place for a pond would be half in the sun and half in the shade. Too much sun raises the risk of algae, and too much shade limits what type of water plants you can have. A combination of both sunny and shaded areas is recommended.
Ponds come in many types, shapes, and sizes. The type of pond you choose will depend on your personal preferences, the size and layout of your landscape, and the type of water feature you want to create.
A koi pond is designed specifically for the breeding and keeping of koi fish, and need to have an 18inch to 2 feet deep basin with a proper filtration system.
A waterfall pond features a waterfall or stream that cascades into the pond, adding movement and sound to the water feature.
Naturals ponds are designed to mimic the look of a natural body of water, and often feature a shallow basin with a rocky edge and plants growing along the shoreline.
A formal pond features a clean, symmetrical design and is often used in more formal gardens.
Container ponds are ideal for those with limited outdoor space. They can be placed on patios, decks, or balconies and come in various sizes and materials.
Wildlife ponds are designed to attract and support local wildlife, such as frogs, birds, and dragonflies. They often feature shallow water, plants, and rocks that provide habitats for wildlife.
A fountain pond features a fountain or spray feature that shoots water into the air, creating a visual and auditory display.
Ultimately, the type of pond you choose will depend on your personal preferences, the size and layout of your landscape, and the type of water feature you want to create.
A Pricing Guideline For Your Pond Construction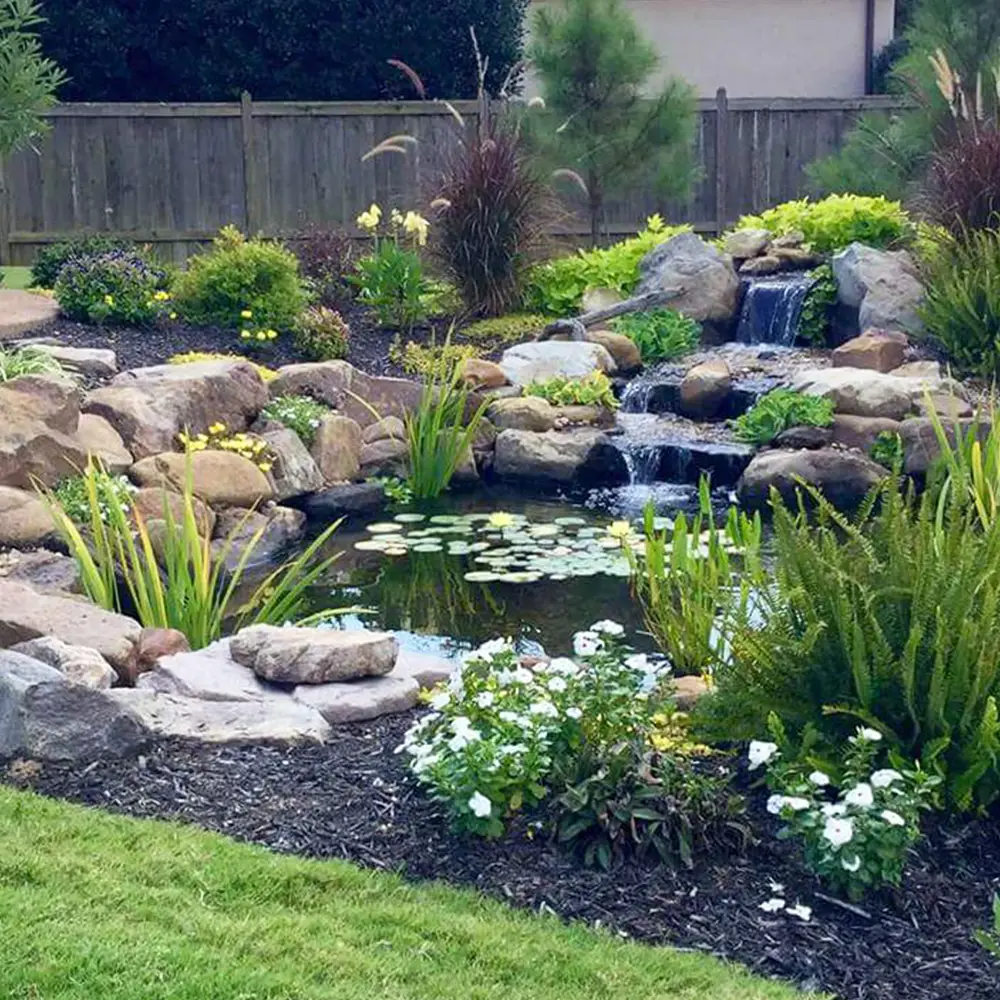 8′ × 10′ pond Construction
This 80 ft². pond build included:
The project was quoted at $8,000 where the stone & gravel came in at $2,000.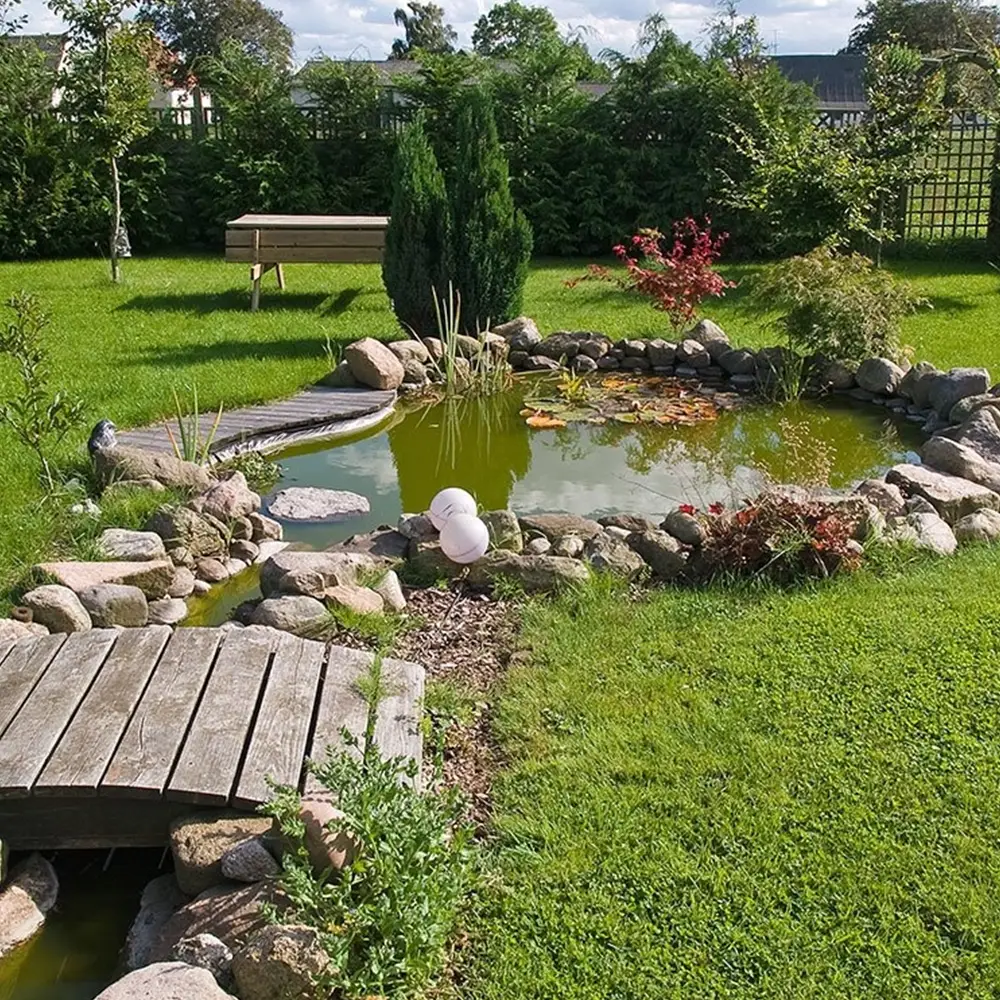 11′ × 16′ pond with a 15′ long stream
This 176 ft². pond with 15 ft. stream project included:
The project was quoted at $18,000 where the stone & gravel alone came in at $5,000.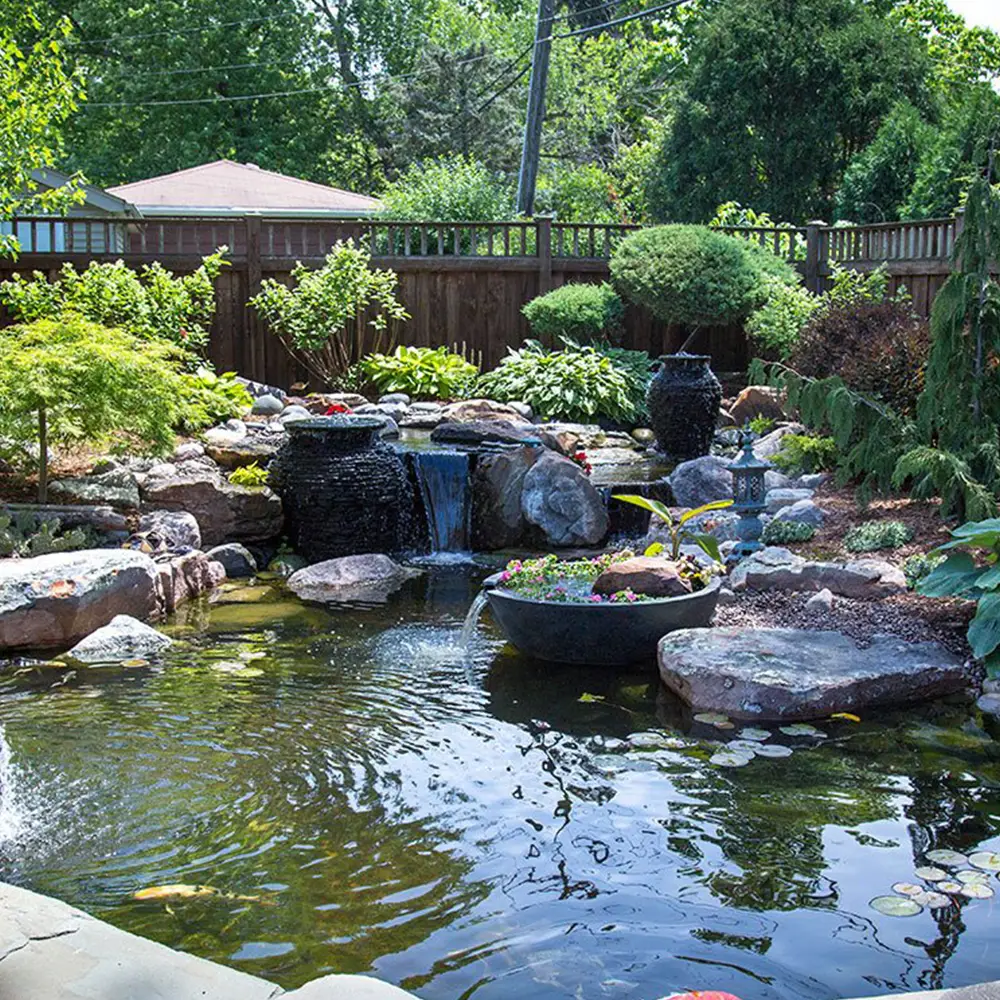 16′ × 21′ Pond Construction
This 336 ft². project included:
The project was quoted at $65,000 where the stone & gravel alone came in at $18,000.
Pond Building Cost Calculator
Use the slider in the calculator below to get a better idea of your new pond's cost. Don't forget to reach out for your final price.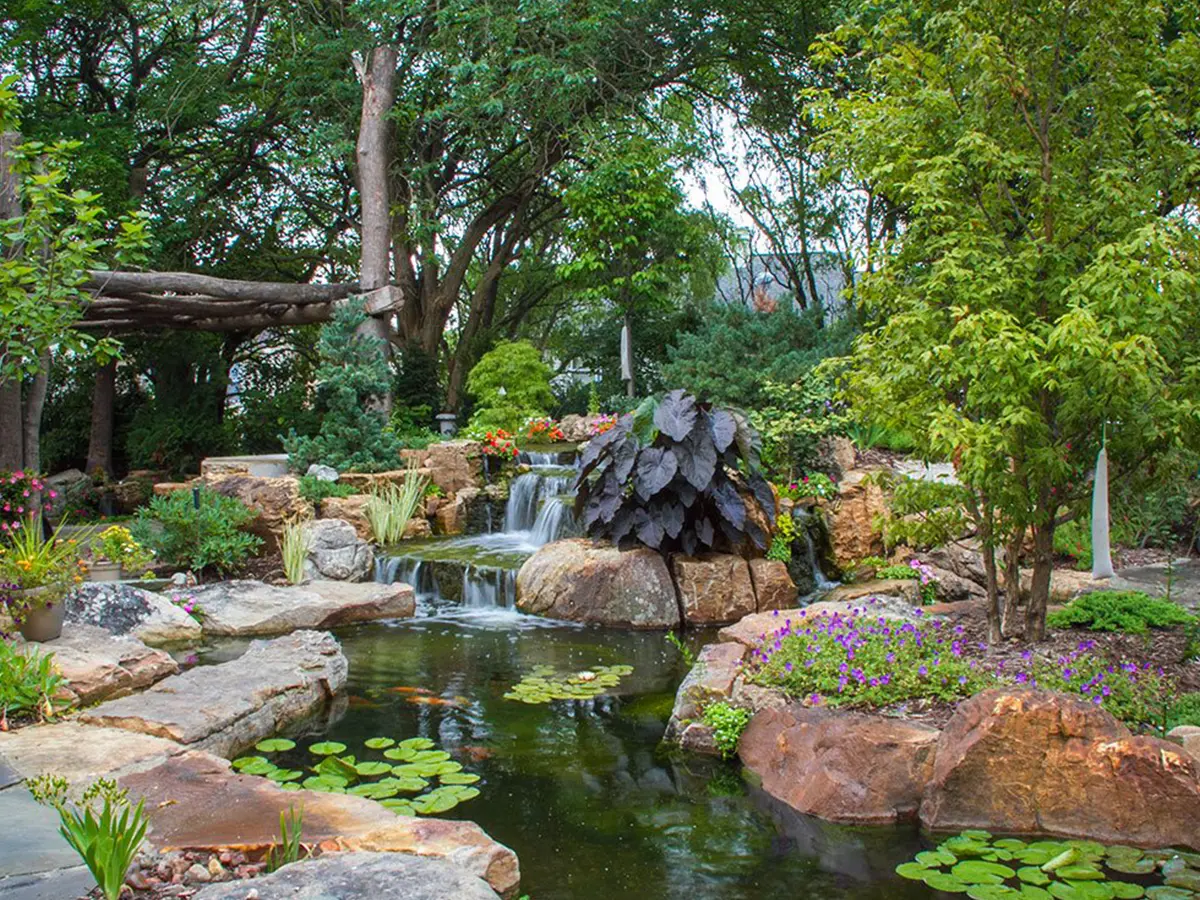 Drag the slider to Get Your Estimate
Your Worry-Free Backyard Transformation
Our goal is to offer you an unmatched customer experience while we build your pond. We've designed a streamlined process that keeps you updated at all times and guarantees a pond you'll love.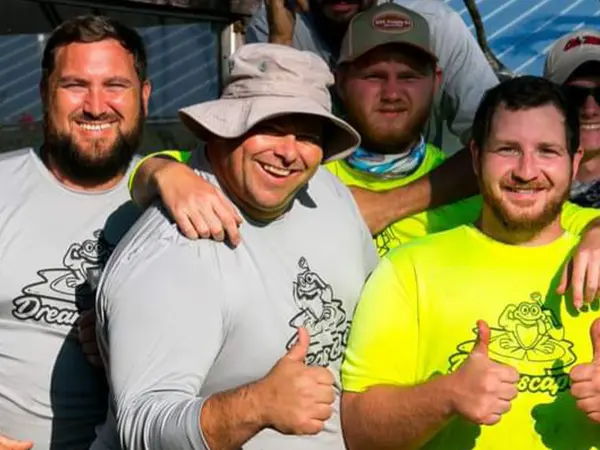 We help you define your vision for your yard.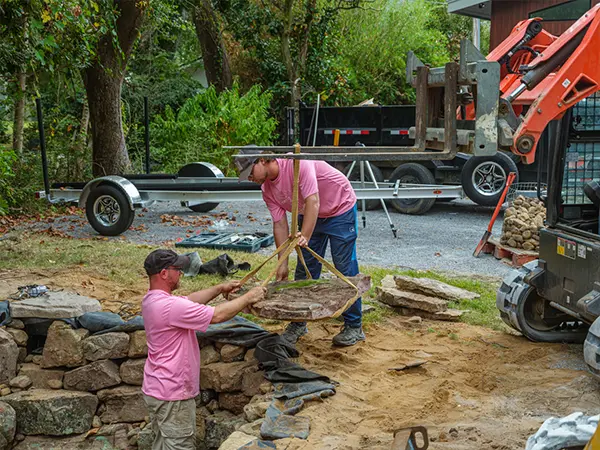 We bring your pond vision to life.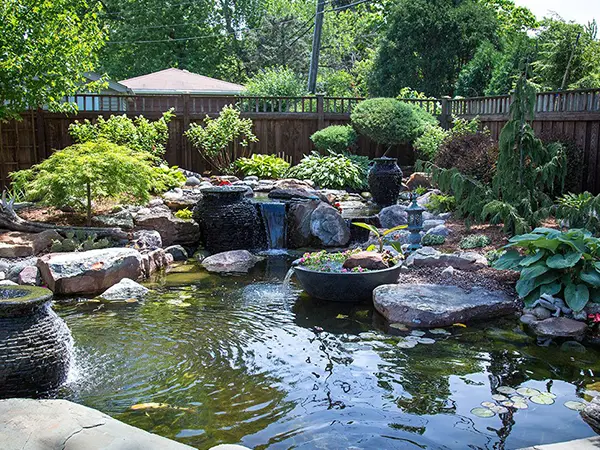 Enjoy your beautiful pond with your loved ones.
Experience True Excellence For Your Water Feature
This company built me a most beautiful koi fish pond!
They are professional and responsive.
My back yard is now like an oasis, with soothing waterfalls sounds.
This is my meditation garden! Thank you, Bubba!
I just love these guys. There affordable , and very informative. The owner took out his time to go over with pricing , showed me different pics he really took his time and acted as if it was his pond he was installing a feature on.
Give these guys your business you won't be disappointed.
I want to thank Dreamscapes for an awesome job on my father-in-law's water feature. They totally cleaned out the existing feature and rebuilt a new one.
The final product exceeded our expectations! I highly recommend this company for any water feature/pond needs. The experience was seamless and very professional. Thanks again Dreamscapes Landscaping!
Ready To Breathe Magic Into Your Yard With A Pond?
Working With Panhandle Ponds Guarantees You'll Get
As Certified Aquascape Contractors, Panhandle Ponds team attends the biggest training events year by year to guarantee an impeccable service and installation.
We're all about creating a red carpet-experience for you while building your pond. We go above and beyond to make sure you feel special, valued, and appreciated, and that your needs are met at all times.
We are committed to resolving any issues that arise from factors within our control to ensure that your pond continues to provide a delightful experience year after year.
Elevate your backyard to a soul-soothing experience with a custom koi fish pond
Let us know what inspires you, and together we'll turn your idea into reality.​