The Best Pond Maintenance In Gulf Breeze, FL
Looking for a reliable pond maintenance service?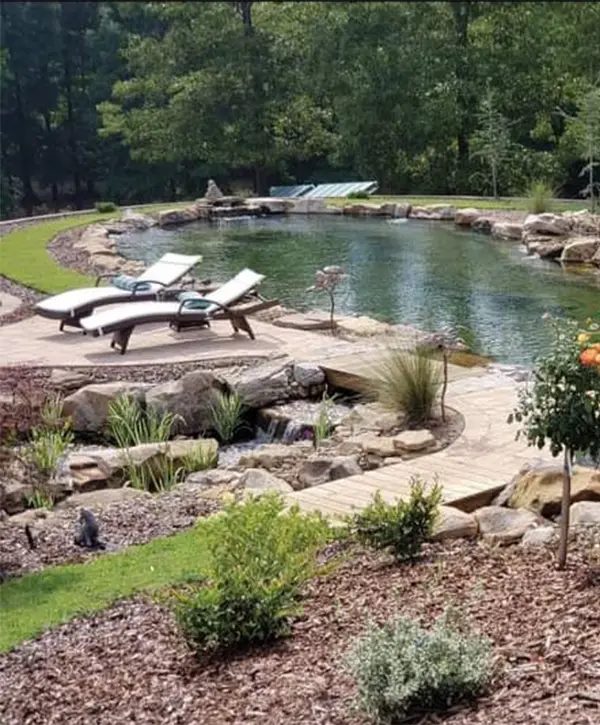 Although it may not be enjoyable for everyone, maintaining your pond in Gulf Breeze, FL, is one of the best ways to ensure your water feature and the environment it provides to wildlife is healthy.
Pond maintenance cost is anywhere from $1k to $3.5k for a 90 sq. ft. pond or around $5.4k for a complete pond maintenance service of a space up to 330 sq. ft.
At Panhandle Ponds, we are committed to making pond ownership hassle-free for homeowners. We offer maintenance services for your water feature, allowing you to fully enjoy the benefits that come with having a beautiful pond in your backyard.
A Reliable And Complete Pond Maintenance Service
Panhandle Ponds is committed to serving your home and delivering top-notch services that ensure your complete satisfaction. We go above and beyond by providing you with additional services that many other contractors do not offer.
With Panhandle Ponds, you'll also get:
Premium Pond Maintenance Subscriptions In Gulf Breeze, FL
To keep the ecosystem in your water feature healthy, cleaning up leaves and other debris is important as part of pond maintenance.
Although anyone is capable of cleaning the pond, it can eventually become a burdensome task, and you may prefer to delegate it to someone else.
Panhandle Ponds offers homeowners in Gulf Breeze, FL, and surrounding areas a pond maintenance subscription that covers any size and type of pond. Choose between different maintenance plans to ensure your water feature is completely healthy, and enjoy the predictability of a superior pond maintenance program.
Check out our pond maintenance offer here! Get the one that best matches your needs, or request your free quote, and we'll advise you to find the best solution for your pond.
Our Customers Love Working With Us, Even Several States Away!
Panhandle Ponds and Midsouth Ponds share the same owner, mission, and vision. Our customers from Tennessee can attest to the quality of our customer service, and we believe you will agree.
Excellent work in a very professional manner. 
The results of our new pond and fountain is fantastic with multiple complements in the first days after completion. 
Would highly recommend Panhandle Ponds!!
Bubba and his team are so helpful and courteous. 
I am just getting started with taking over a Koi pond they previously serviced and they have been responsive and kind in helping me "winterize" the pond while I was away. 
Thank you Bubba!
Pricing Guideline For Your Pond Maintenance Service
Pond maintenance is service you'll need constantly. Our pricing depends on the size of your pond, but also the scope of work (cleaning, bacterias, adding rocks, gravel, etc.) Here's a quick pricing guideline for your pond maintenance.
Cleaning a small pond takes less time than cleaning a larger one. But since a small pond gets dirty faster, it may seem unmaintained unless cleaned frequently. However, cleaning a small pond too often can become bothersome. A pond with an area of 6 x 8 sq. ft. or less should be classified as small.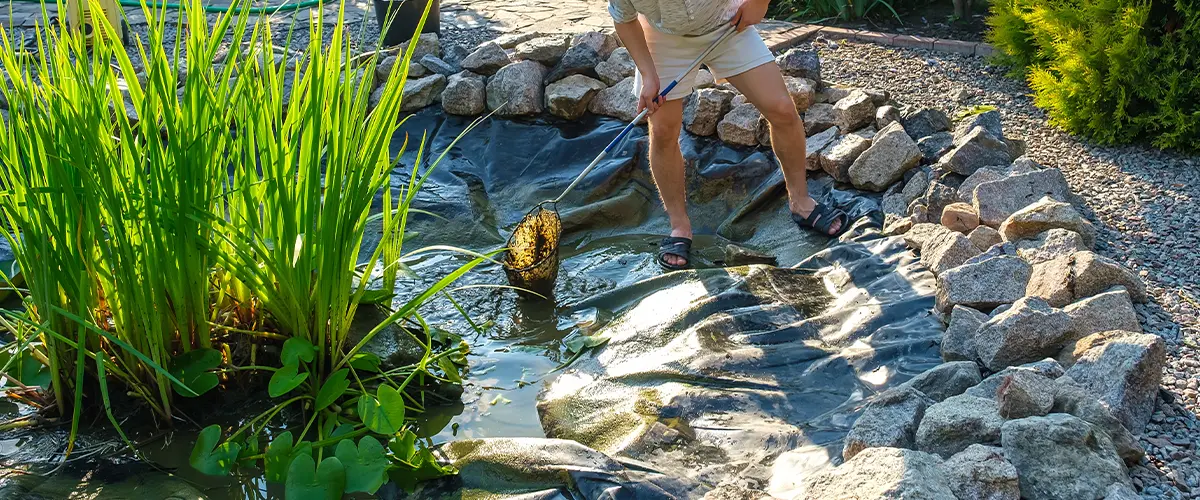 We have a lot of experience working with medium-sized ponds that are commonly used in home backyards. These ponds are typically 8 x 11 square feet and serve as habitats for numerous plants and animals. As a result, they tend to accumulate a significant amount of debris and organic waste that must be properly managed.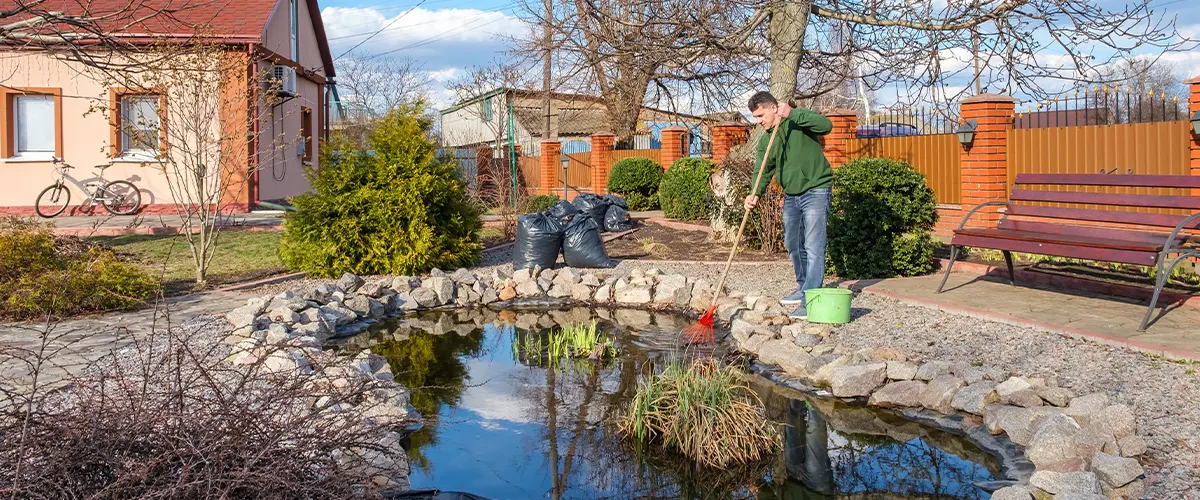 Cleaning a large pond of about 11 x 16 sq. ft. is considerably harder than cleaning a medium-sized pond. It requires twice the effort and involves special treatment for bacteria, plants, and aquatic life. The process is time-consuming and demands a lot of attention and care.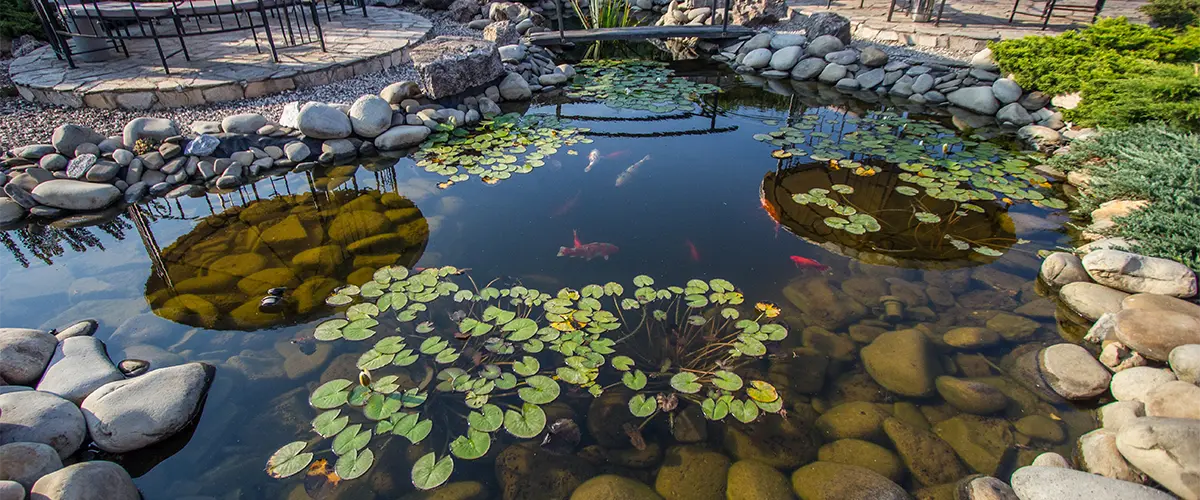 Here's What Our Pond Maintenance Subscriptions Include
Stress-Free


PLATINUM

Hands-Off


GOLD

Care-Free


SILVER

Basic


BRONZE

Visits
Bi-weekly:
Apr - Oct
Monthly:
Apr - Oct
4
3
Deluxe Spring Cleaning
✔️
✔️
✔️
✔️
Late-Spring Plant Package
✔️
✔️
Mid-Summer Service
✔️
✔️
✔️
Fall Netting
✔️
✔️
✔️
✔️
Winter Shutdown (if wanted)
✔️
✔️
✔️
✔️
Winter Peace of Mind
Monthly:
Nov - Feb
Monthly:
Nov - Feb
Fish Health/Water Check
✔️
Dosing System
✔️
✔️
✔️
Water Treatments
✔️
✔️
✔️
Plant Care
✔️
✔️
Free Fish Food
✔️
✔️
Clear Water Guarantee
✔️
Price up to 90 sq ft
$3,449
$2,649
$1,999
$999
Price up to 180 sq ft
$4,059
$3,149
$2,399
$1,399
Price up to 330 sq ft
$5,389
$3,899
$3,089
$1,999
Check Out Some Of Our Past Projects
To showcase our dedication to our craft, we invite you to check out our completed projects. We put a lot of effort into surpassing your expectations and ensuring your satisfaction with every task. See for yourself the experiences of our previous clients who worked with us.
Pond Maintenance In Gulf Breeze, FL - Made Easy!
Our service aims to make it easy for you to maintain a clean and low-maintenance outdoor area. However, at times, your water feature may require cleaning. Thankfully, we offer efficient and high-quality cleaning services to ensure your comfort. Additionally, we provide maintenance subscription options, so you don't have to worry about this chore and can leave it to the professionals.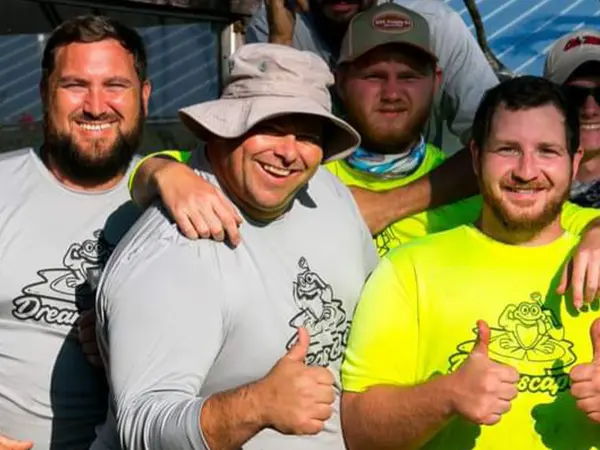 Contact us, and let's discuss your project.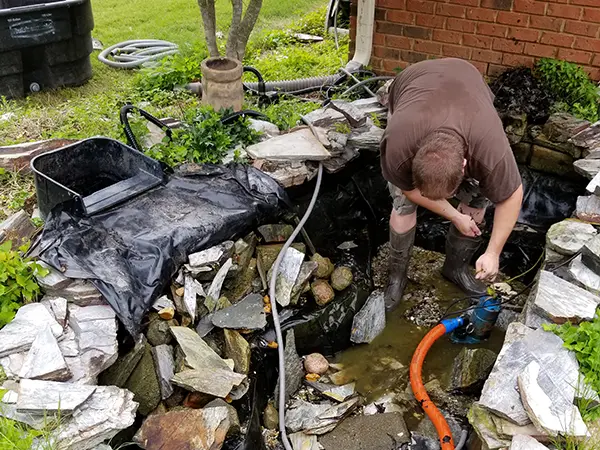 We'll get straight to work and clean everything.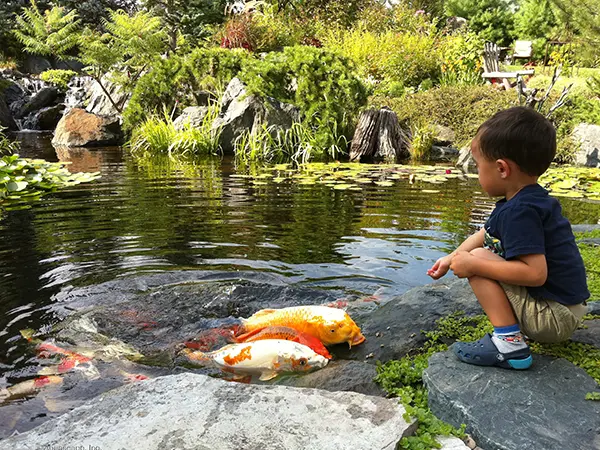 Enjoy the serenity of your water feature!
Frequently Asked Questions
World-class Pond Maintenance In Gulf Breeze, FL!
There's no way around it. If you want your pond clean and healthy, you'll have to maintain it.
If you don't have enough time to regularly finish these tasks or if you're tired of cleaning the pond repeatedly, why not hire someone else to do it?
Our company provides quality pond maintenance services in Gulf Breeze, FL, and nearby areas. You can collaborate with our experts to ensure that your water feature remains in excellent condition and witness the flourishing of your backyard!
Get ready to receive:
Take Full Advantage Of The Best Pond Maintenance Service Around Here