The Best Pond Cleaning In Pensacola, FL
Want a thorough pond cleaning service? You know what to do!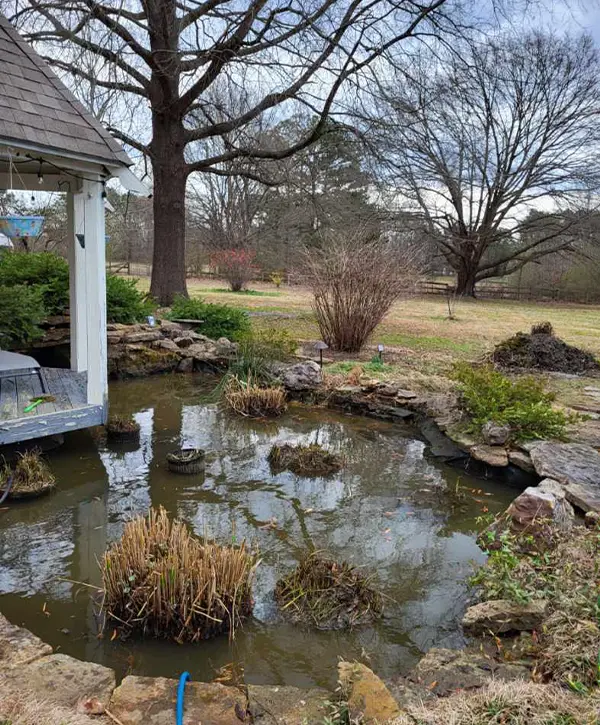 Looking for the right fit for a pond cleaning project in Pensacola, FL?
Panhandle Ponds is your local pond contractor with a lifetime of experience bringing mesmerizing water features to your outdoor space and creating an oasis that helps you unwind.
With us, you're getting a complete pond cleaning service to ensure you're ready for the upcoming season and the next barbecue!
A Thorough Pond Cleaning That Comes With Extras
At Panhandle Ponds, we care about you and your home immensely. We guarantee that you will be 100% satisfied with our services and will return for more. We go above and beyond to ensure this happens by providing even more value than we agreed upon.
With Panhandle Ponds, you'll also get:
Premium Pond Cleaning Services - Now At Your Doorstep
We know finding a reliable pond contractor in Pensacola, FL, is no easy feat. We've seen shoddy contractors and sketchy work everywhere around, and we want to make things right!
We promise to dedicate ourselves to giving you a complete pond cleaning service that takes care of every little detail. We'll use top-of-the-line equipment and tools to ensure your pond is clear of debris and harmful bacteria.
We make sure that your pond or water feature is sparkling clean and free of algae, sludge, and leaves. With Panhandle Ponds, you can enjoy your pond all year stress-free!
Our Customers In Pensacola Love Working With Us!
Panhandle Ponds is a subdivision of Midsouth Ponds run by the same owner, mission, and vision. Our clients from Tennessee are over the moon with our service, and so can you, a few states away!
Excellent work in a very professional manner. 
The results of our new pond and fountain is fantastic with multiple complements in the first days after completion. 
Would highly recommend Panhandle Ponds!!
Bubba and his team are so helpful and courteous. 
I am just getting started with taking over a Koi pond they previously serviced and they have been responsive and kind in helping me "winterize" the pond while I was away. 
Thank you Bubba!
What Is Included In Pond Cleaning
Our pond cleaning service is not just a random guy with a pool cleaning pole. We're doing much more than that. We take care of your pond's maintenance from top to bottom, leaving nothing behind. Here are just a few of the things we'll do.
Removing Waste And Power Washing The Bottom
After we take all the fish from the pond and drain it, we'll remove any organic waste and power wash the bottom of the pond.
The power wash will remove any accumulated dirt or debris, but also a thin layer of sludge and algae. This will help the good bacteria flourish and will allow your koi fish to live in a safer and healthier environment.
Cleaning Filters And Mechanical Features
Filters and mechanical features are highly important in all water features, so they need to be regularly maintained.
Pond filters are essential to maintaining a healthy ecosystem in your pond, promoting the health of both fish and algae by eliminating debris. Clear water means healthier aquatic life, and it'll help you avoid animals or insects you might not want near your pond, like mosquitos or flies.
Mechanical features, like skimmers, filter pads, mechanical filters, external pumps, and others, are crucial if you don't want to spend hours collecting debris from your pond.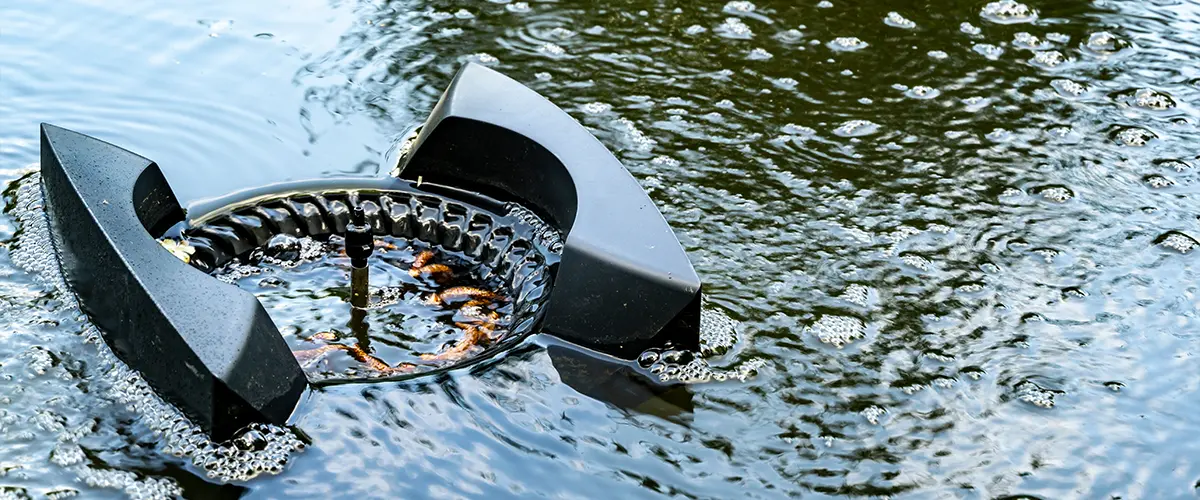 One major aspect of ponds is the vegetation around them. This is what keeps the ecosystem healthy and brings in birds and other beneficial insects to your backyard.
However, overgrown plants don't look great and are ideal for other animals to nest in. The last things you want near your pond are predators like raccoons, possums, leaf beetles, slugs, bullfrogs, etc.
We'll trim all the plants, so your pond ecosystem remains healthy and beautiful at the same time.
Not all bacteria is harmful, especially in a pond ecosystem.
Two major types of bacteria help maintain a healthy pond ecosystem: aerobic and anaerobic bacteria.
This means that anaerobic bacteria help restore oxygen levels so that plants and fish can survive, as well as aerobic bacteria that help filter and clean the water.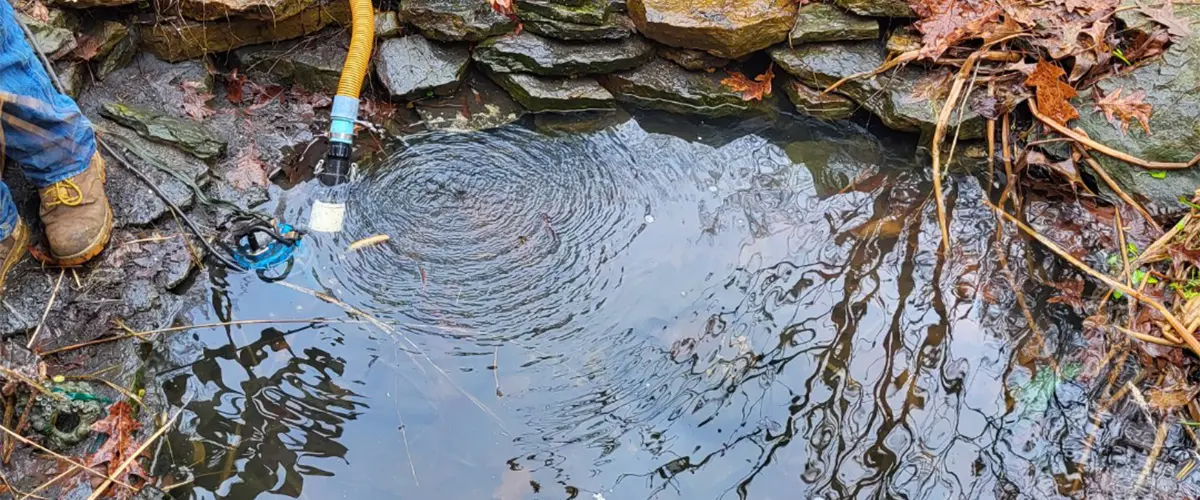 A Quick And Simple Pond Cleaning In Pensacola, FL
Go through a quick and highly-efficient pond cleaning in Pensacola, FL, from one of the best pond contractors in the area! Our goal is to give you a clear and functional pond without you stressing over anything.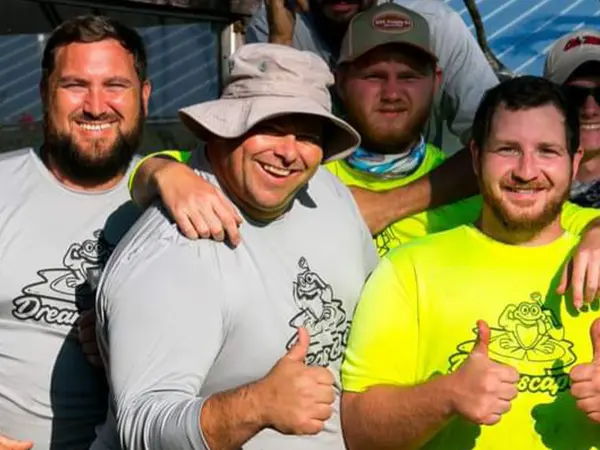 Contact us, and let's discuss your project.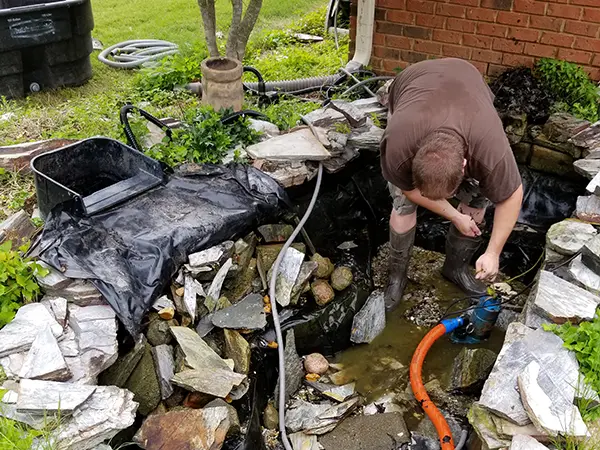 We'll do a thorough clean-up of your pond.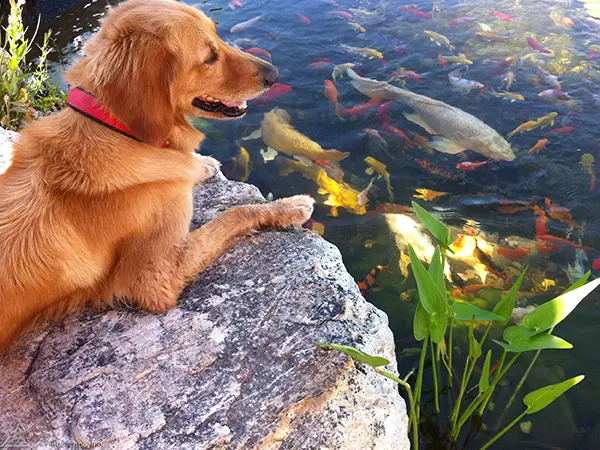 Enjoy the serenity of your water feature!
Frequently Asked Questions
A Reliable And Highly Efficient Pond Cleaning In Pensacola, FL!
If you're starting not to like the aesthetics of your pond or water feature, it's time to clean up!
Pond cleaning is a rather quick, effortless, and affordable project, so postponing this endeavor makes little to no sense. Besides, the value you're getting for such a small project is immeasurable, and you'll enjoy your clean pond like in the first day you got it.
Work with Panhandle Ponds and see your pond coming back to life with a thorough cleaning service!
Get ready to receive:
A Cleaned And Pristine Pond Awaits You