The Best Pond Repair In Pensacola, FL
Want a quality and reliable pond building service? This is your best option!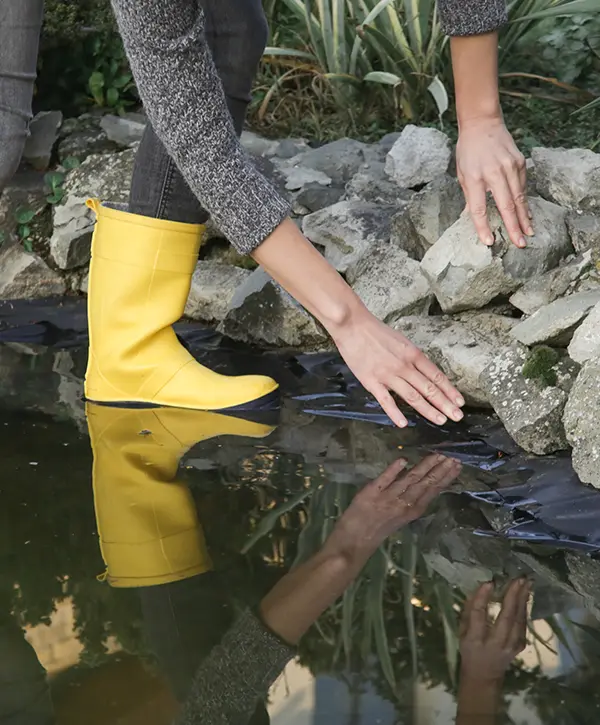 Having a pond in your backyard means increased home value, better aesthetics, and more comfort in your backyard. However, it also means you'll need to do some maintenance from time to time.
Postpone it long enough, and you'll soon need a quality pond repair to bring your water feature back to its former glory.
At Panhandle Ponds, we offer a complete pond repair service for all Pensacola, FL, homeowners who have kept their ponds as an afterthought for too long. We make it easy for you to start this project and make your pond function properly again – without worrying about anything during the process!
A Pond Building Service That Makes Everything Flow Seamlessly
At Panhandle Ponds, your satisfaction is our top priority. We strive to exceed expectations with every task and ensure complete customer happiness. Rest assured that you will always receive more from us than originally promised!
With Panhandle Ponds, you'll also get:
Make Your Pond Fully Functional Again With A Premium Pond Repair Service
We've been in the pond building and repair industry for many years, so we've witnessed plenty of shoddy and unreliable work throughout Pensacola, FL, and its surroundings.
At Panhandle Ponds, we want to change that.
We offer a complete pond repair service that focuses on returning your pond to its former glory without breaking the bank or causing you a major reason to stress over. We're taking care of everything from top to bottom, and by the time we're through, your pond will look new!
We're one of the best pond repair contractors in Pensacola, FL, and we're planning to remain so for a very long time.
From Tennessee To Florida, Our Customers Love Working With Us!
Panhandle Ponds is a subdivision of Midsouth Ponds run by the same owner, mission, and vision. Our clients from Tennessee are over the moon with our service, and so can you, a few states away!
Excellent work in a very professional manner. 
The results of our new pond and fountain is fantastic with multiple complements in the first days after completion. 
Would highly recommend Panhandle Ponds!!
Bubba and his team are so helpful and courteous. 
I am just getting started with taking over a Koi pond they previously serviced and they have been responsive and kind in helping me "winterize" the pond while I was away. 
Thank you Bubba!
You'll get a complete pond repair from top to bottom. We'll ensure the technology in your pond works appropriately, that the rocks and boulders are safe and not going anywhere, and that the plants are properly planted and maintained.
Here are some upgrades or repairs that we can do for your pond: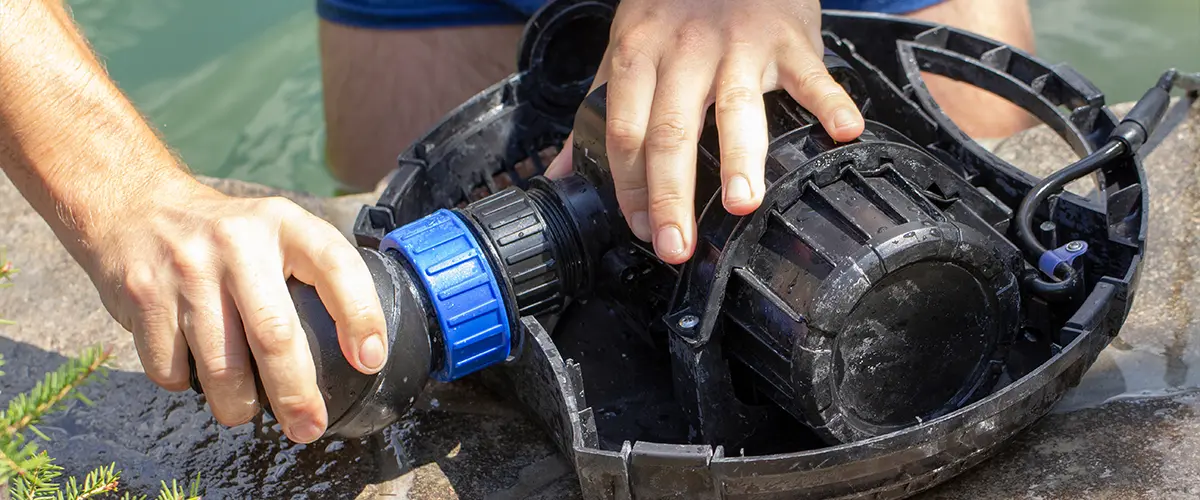 1. Fibreglass Installation
We offer on-site installation of waterproof quality fiberglass lining for any old concrete leaking pond or new concrete construction! Fiberglass lining is top-notch technology that's more durable and resistant than previously used methods.
2. Flexible Liner Installation
We can install new flexible liners of all types available, including EPDM, PVC, and Butyl Rubber. These are all stronger and much better protected from sunlight and UV rays.
We have a wide range of pond pumps from various manufacturers that you can choose from, and even get expert advice on which pump would be the best fit for your pond. We also provide installation services, so you don't have to worry about setting it up yourself.
4. Filtration System Upgrades
If you're looking for a more efficient way to keep your pond clean and sparkle with cleanliness and clarity, we've got you covered! We'll install new filtration systems that work better for the capacity of your pond and make maintaining the water feature as simple as 1-2-3.
5. UV System Upgrades/Repairs
If your pond suffers from green water or started going green after many clear years, there's a solution to it. We'll do a thorough inspection, recommend a quality UVC, and we'll also install it for you!
If your pond's waterfall costs you water, that needs to be repaired as soon as possible. The first thing we'll do is inspect it thoroughly and provide the necessary repairs to stop that leak. That could involve re-pointing, resealing, or even replacing parts of the structure.
Lighting illuminates your pond in the evenings and keeps it visible for extended periods of time! We recommend pond lights because they make your pond safer and create a beautiful mood in your backyard. We offer a variety of sizes, intensities, and colors to choose from that will truly enhance any outdoor body of water.
Don't let your ponds suffer due to faulty electrical boxes – our experts can keep them in top condition with routine maintenance and professional installations. We understand the importance of keeping these devices waterproof – so leave it to us for a worry-free, quality result every time!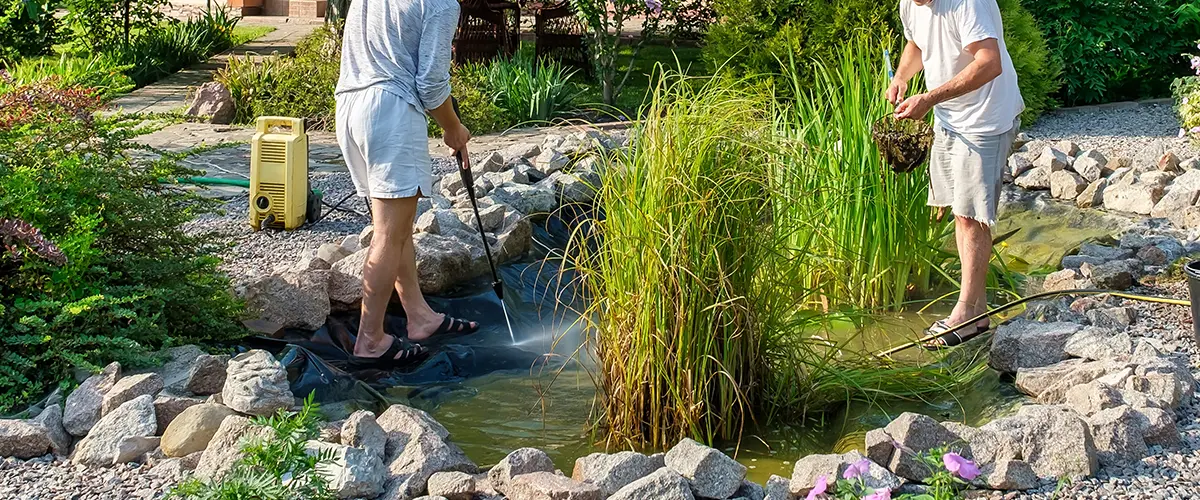 A High-Quality Pond Repair In Pensacola, FL
Our pond repair process focuses on your well-being and comfort. We'll be fast and efficient, and you won't even know we were there in the first place. By the end of our job, you'll love your pond like you did in the first day!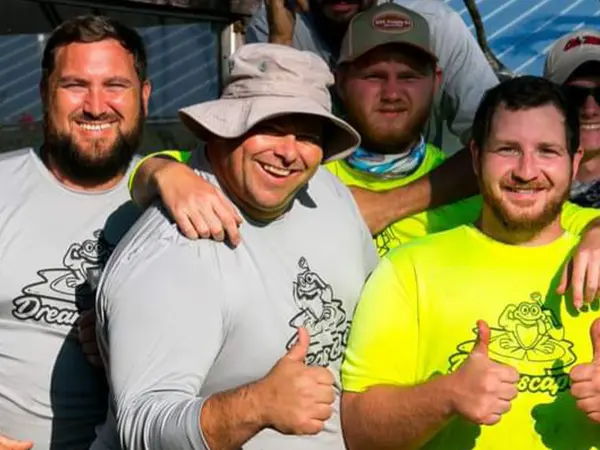 Contact us, and let's discuss your project.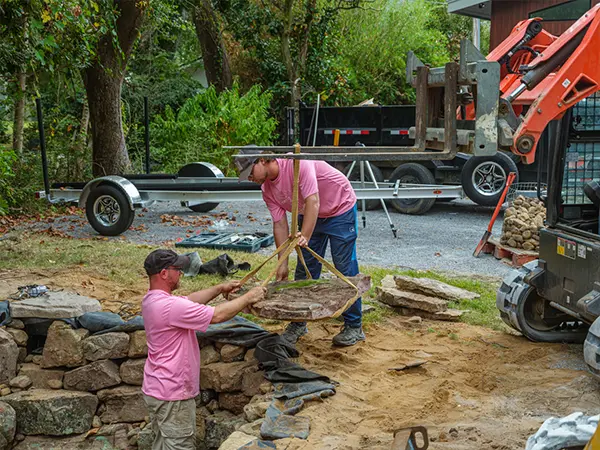 We'll get to work and start repairing your existing pond.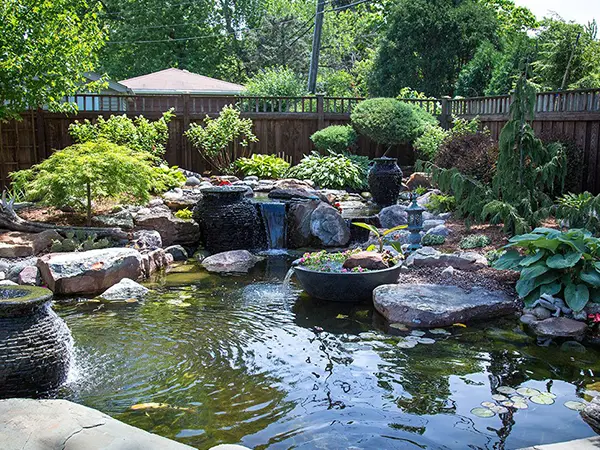 Enjoy the serenity of your pond, now looking as good as its first day.
Frequently Asked Questions
The cost to repair a pond in Pensacola, FL, depends on the size of the structure and what kind of repairs it needs.
Most pond repair projects don't cost more than $5k, but depending on what you want to upgrade, the cost can go up to $10k.
Based on the scope of work, most pond repairs take one to two working days. We'll give you an accurate timeframe after our initial consultation.
We take immense pride in partnering with an elite group of professionals to provide you with the best possible pond repair services. All personnel is comprehensively insured, licensed, and trained by renowned industry experts who specialize in all aspects related to our craft – a service you can't find anywhere else! Our staff continually upholds maximum proficiency when it comes to the tools, techniques, and code used for every task we perform.
Fix Your Pond With The Help Of A Professional In Pensacola, FL
Pond repair can be a stressful journey, mostly because you don't precisely know what needs to be replaced or repaired. The pond repair cost makes most of our customers second-guess their choice.
Here at Panhandle Ponds, we'll reassure you that your project will be kept within your budget and it won't become a never-ending nightmare. You'll get your pond repaired quick, efficiently, and at a sensible price!
We commit to excellence, and we'll do everything in our power to see you fully satisfied with your new water feature.
Get ready to receive: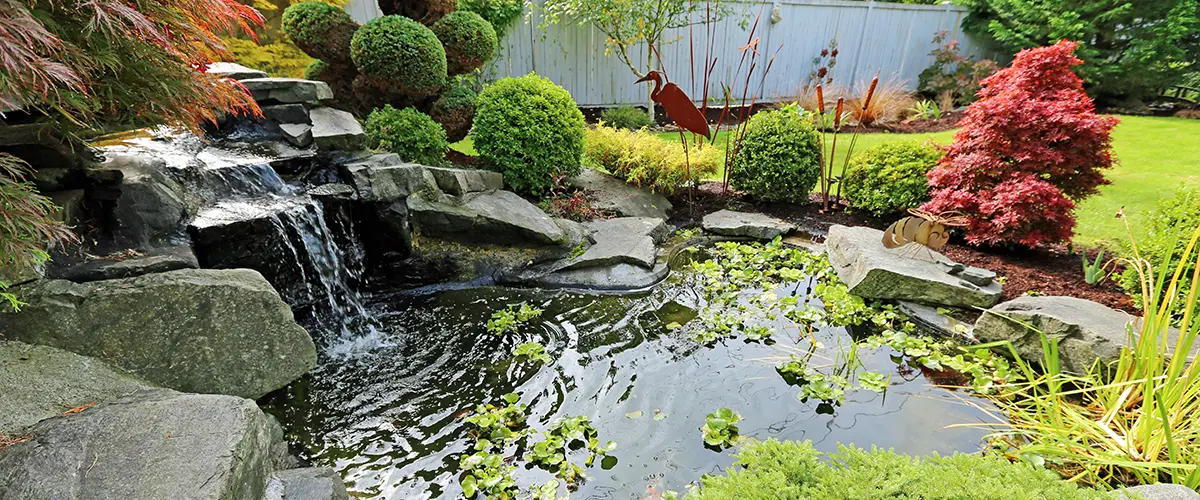 Ensure full Functionality And Benefits With A Thorough Pond Repair In pensacola, FL!