The Best Pondless Waterfalls In Pensacola, FL
Want to get a high-quality pondless waterfall service? This is the best shot you've got!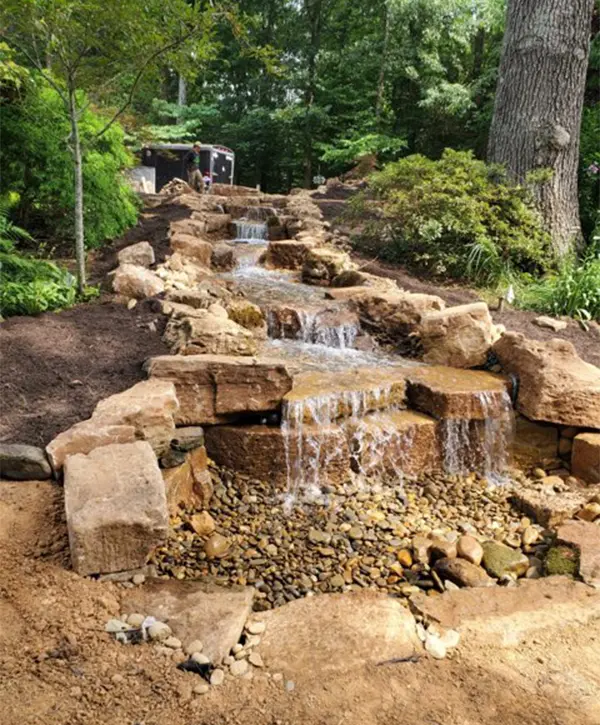 Interested in installing a pondless waterfall in Pensacola, FL? Why not get the best pond contractor to make it happen?
Panhandle Ponds has all you need to transform your backyard into a serene oasis that has the potential to bring peace to your daily life and increase the resale value of your home.
We're ready to take on your outdoor space and tap into its full potential with a water feature that requires minimum maintenance for maximum efficiency!
A Superior Pondless Waterfall Installation In Pensacola, FL
At Panhandle Ponds, we are passionate about providing you with the best service and guaranteeing your complete satisfaction. We strive to exceed expectations in every way by delivering more than most other contractors do!
With Panhandle Ponds, you'll also get:
Take Full Advantage Of A Premium Pondless Waterfall - With Panhandle Ponds!
Sure, ponds are beautiful, but once you reach an age where you can't maintain it any longer or when you're simply tired of checking the filters and the skimmers, ponds become more and more of a hassle.
A pondless waterfall is just the solution if you want the serenity and beauty of a water feature but without all the maintenance that comes with it!
At Panhandle Ponds, we work with the best pros in town to install some of the most mesmerizing pondless waterfalls in Pensacola, FL! Get to enjoy the sweet sound of flowing water and create a backyard that your neighbors will envy you for.
Check out our pondless waterfall service! With us, you're getting a reasonable price, a highly-efficient service, and immeasurable value for your home and lifestyle!
Homeowners Love Working With Us!
We started in Tennessee and won the hearts of many homeowners there with our craftsmanship. Now, we're taking it the extra mile and aim to give Pensacola homeowners an even better experience! Here's what people say about us!
Excellent work in a very professional manner. 
The results of our new pond and fountain is fantastic with multiple complements in the first days after completion. 
Would highly recommend Panhandle Ponds!!
Bubba and his team are so helpful and courteous. 
I am just getting started with taking over a Koi pond they previously serviced and they have been responsive and kind in helping me "winterize" the pond while I was away. 
Thank you Bubba!
3 Design Types For Your Disappearing Waterfall
Pondless waterfalls (or disappearing waterfalls) can have dozens and dozens of designs. Some are larger and more impressive, and others are more affordable and subtle. Below we'll discuss three of the most common pondless waterfalls we love building for our customers in Pensacola, FL!
Basalt Pondless Waterfall
Basalt waterfalls is one of the most popular pondless waterfall designs. They're also some of the most expensive ones, but the end product will make your investment 100% worth it.
You'll hear the water flowing and hitting the basalt rocks, just to disappear and come back again. This is why pondless waterfalls are also called ultimate pondless fountains. They use the same water over and over again.
There are many reasons why people like basalt for their pondless waterfalls.
Spillway bowls are affordable and subtle. They are great for homeowners on a budget that want a quick and visible upgrade in their backyard.
Distinct from basalt or bubbling urn fountains, this type of pondless water fountain captures and releases water in the form of a bowl filled with liquid before overflowing into another spillway bowl or basin.
The best part about spillway bowls is that you can get as many as you want and place them in various positions. We've even installed pondless waterfalls with 5 different bowls!
You can get spillway bowls for as low as $100 and as much as $1k.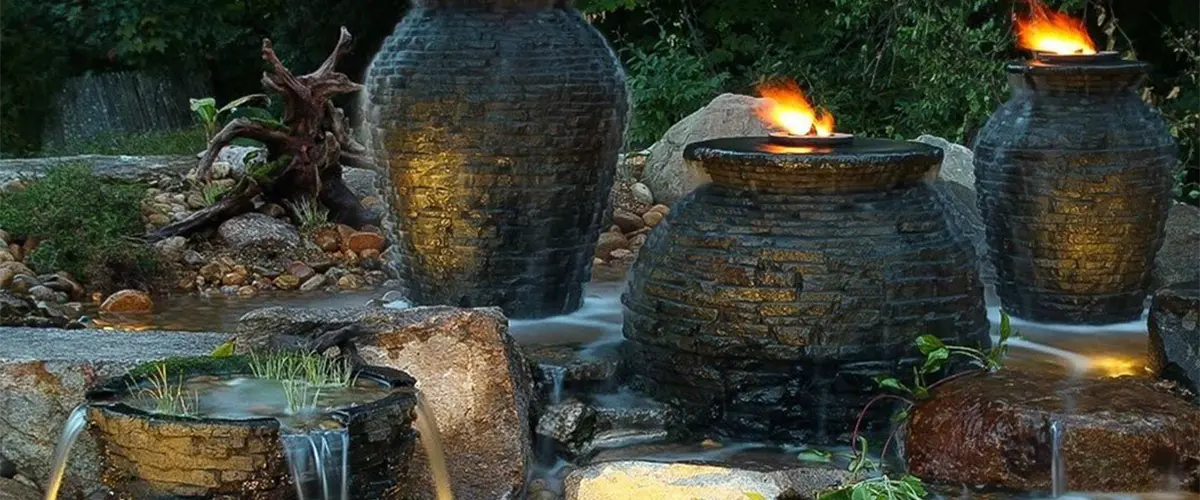 Even more subtle than spillway bowls, bubbling urns can almost be hidden and away from sight, and you'll still be able to hear the sound they make.
In fact, their specific bubbling is what makes them unique.
Flowing elegantly out of a stunning urn, these majestic water features are powered by an underground reservoir that continuously circulates the water. As soon as the container is filled with liquid, it overflows into its subterranean basin, which is then propelled back up to refill the ornamental vessel.
Check Out Some Of Our Past Projects
Our past customers are testaments to the first-rate service we provide, while our finished projects reflect our expertise in workmanship. We make a point to go above and beyond expectations so that you can be 100% content with your experience. Have a glance at some of the incredible things we've done!
A High-Quality Pondless Waterfall Installation - Now Easier
Getting a pondless waterfall installed in your backyard can't get easier than this! Our process is built with your comfort and well-being in mind, and we'll make sure your concerns and needs are addressed at all times during your project.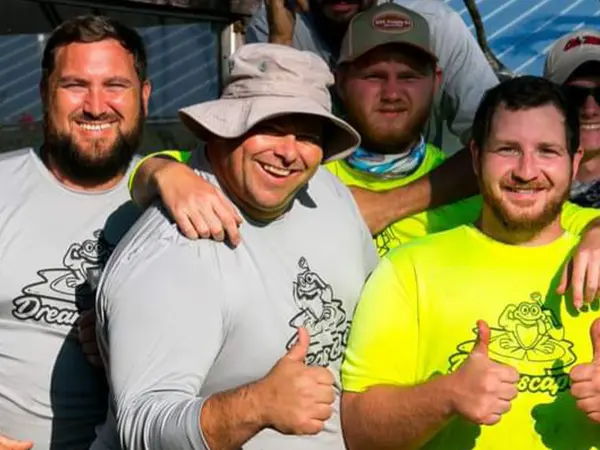 Contact us, and let's discuss your project.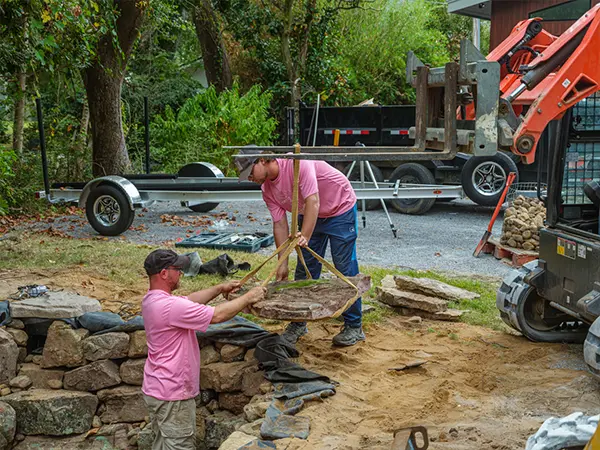 We start working on your disappearing waterfall.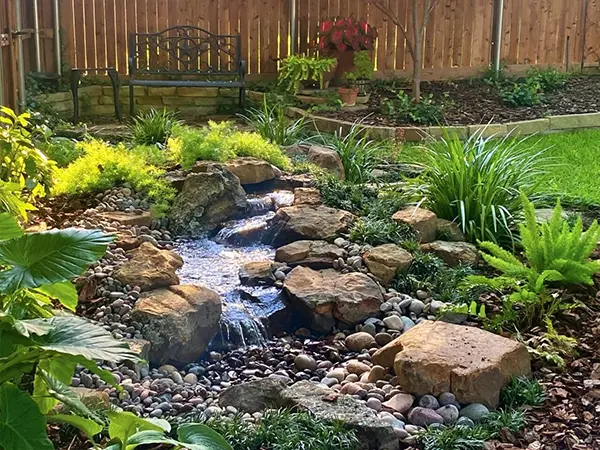 Enjoy the soothing sound of water – now in your backyard!
Frequently Asked Questions
Get The Most Beautiful Backyard With A Pristine Pondless Waterfall!
Pondless waterfalls are a great addition to your backyard. They offer you comfort and serenity and help your property look more elegant.
With Panhandle Ponds, your new water feature will not just look impressive, but it'll give you a reason to spend more time outdoors and clear your mind.
So if you're ready to get this investment and enjoy a backyard like the ones you see in movies, now is your best chance!
Get ready to receive:
Enjoy More Time Outdoors And Less Worries With A Quality Pondless Waterfall